Cruising Mallorca to Ibiza – Insider Tips
Published:
October 7, 2019    The Moorings  
Comments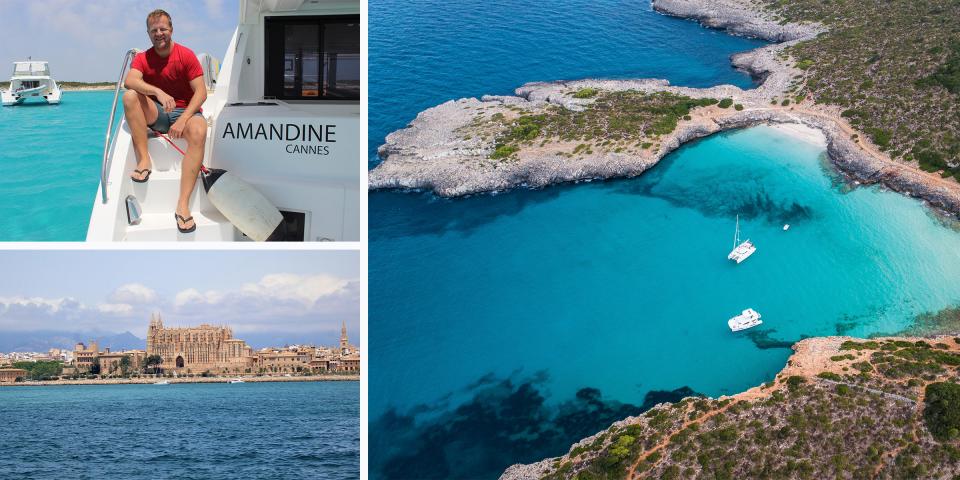 By Renato Seitenfus:
Since I joined The Moorings and became hooked on the charter experience, I cannot let one year pass without stepping on a boat, exploring new waters, and discovering new cultures. Every year my friends and I set up an annual floating meeting, so after the Caribbean and Thailand, we decided to choose a destination that we'd all been to before and fell in love with – Spain.
Our crew was bigger this time with 12 best friends coming from different places all over the world, so we booked two powerboats – a Moorings 514PC and a Moorings 434PC – to explore Spain's Balearic Islands including Mallorca, Ibiza, and Formentera.
As usual, to set up and organize our meals, we pre-planned our menu and made a list of items needed for about four days. We also didn't want to miss out on sampling the Mediterranean cuisine, especially the Tapas and authentic Paella Española paired with a local cava, wine or sangria.
When chartering in Spain, here are the three things that you cannot miss…
The culture in the cities
The beautiful beaches
Las Calas in Mallorca and Ibiza (Calas: coves; creeks)
The initial plan was to spend half of the time in Ibiza and Formentera and the other half in Mallorca. So, after departing the marina in Palma, we spent our first night at Port Andratx, the closest position to head south to Ibiza on Sunday morning.
The crossing to Ibiza took us four and a half hours on powerboats and the waters were a bit challenging. Much to our surprise, when arriving in Ibiza, there were no slips available in five of the marinas we tried to contact. We found some berths on the western side but they cost 400 Euros for each boat. We later learned that most marina spaces are taken by local brokers, so look for them in advance.
We went straight to the northeast side of Ibiza, to St. Eulalia for the day. We had a great afternoon in two nice spots – Babylon Beach Bar, where I enjoyed the best gin and tonic of my life, and Playa Niu Blau, where the vibe feels very "VIP". We were looking forward to going to one of the famous night clubs in Ibiza, however, after the crossing and a full day by the beach, we decided to anchor in St. Eulalia and just set up our own night club! Yes, we even had our own DJ on board with a DJ table!
https://www.moorings.com/blog/cruising-mallorca-to-ibiza