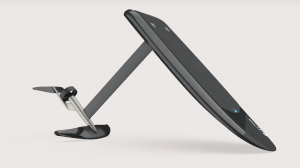 This just looks like fun. In case you're looking for a new toy, or a way to relax once you've dropped the hook on your next cruise, consider the Fliteboard, an electric-powered foiling surfboard. (See the video below.)
Built in Australia, the Fliteboard flies several feet above the surface, giving you the sensation of gliding over the water. A handheld remote control lets you control the speed, but the company says it can hit 27 mph.
The Fliteboard is made to foil on oceans, rivers and lakes, in fresh and salt water. You don't even need waves, although they certainly add to the adrenaline rush. And the Fliteboard is eco-friendly; it leaves no emissions, or wake, behind.
Fliteboards come in three different sizes for different skill levels. One is inflatable for beginners; it's lightweight, easy to carry, and offers the greatest stability.
The boards come with a Flite Controller, the waterproof handheld remote that lets you control the speed; it displays the GPS speed, remaining battery power and time. The Flitebox holds the onboard computer that coordinates wave, wind and other date to give you a smooth flight. And the Flitecell is the plug-and-play power source with a battery management system.
You can fly up to 90 minutes on a single charge, then you plug into a regular wall socket for a two-hour or so recharge. In the U.S., the Fliteboard costs $12,935.