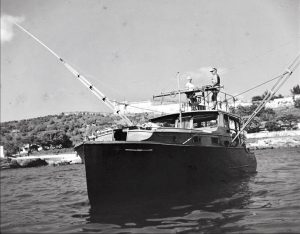 The Brooklin Boat Yard in Maine is building a cold-molded, modern replica of Ernest Hemingway's famous Wheeler 38 Pilar, and it will be launched next spring. The new Wheeler Pilar was reverse engineered from the original by Bill Prince Yacht Design, of Port Washington, Wisconsin.
Hemingway's Pilar is one of the most famous boats of all time. He wrote about it extensively, particularly in Islands in the Stream and then in The Old Man and the Sea, which won the Pulitzer Price in 1953.
Hemingway bought the boat in April, 1934, when he returned from a safari in Africa, from the Wheeler Shipyard in Coney Island, New York. It was a modified version of a Wheeler 38 Playmate, with a live-well, a low transom and a full-width roller on the stern to help in hauling in large fish. It was powered by a 75-hp Chrysler engine, and topped out at 16 knots.
Hemingway paid $7,495 for the boat and it was trucked to Miami, where he picked it up and cruised to Key West. Over the years he fished in the waters off Key West, Bimini and Cuba. In the picture above, he's with Mary Welsh, his fourth wife; Pilar was a version of the first name of his second wife, Pauline Pfeiffer.
After Hemingway died in 1961, the boat was displayed at his finca outside Havana. I saw it there about 20 years ago and was a bit surprised at how small it seemed, but that probably was a reflection of the boat's outsized literary importance and not it's actual physical length.
Last  year Wheeler, which has moved to Chapel Hill, North Carolina, commissioned the Brooklin yard to build a new mahogany Pilar using the epoxy cold-molded system; the yard just turned the hull so it is right-side up and ready for installing all the systems and interior furniture. It will be powered by twin Cummins QSB 6.7l diesels and have a cruising speed of 23 knots or so, plus a lot of things that Hemingway never dreamed of, including air conditioning, Sub-Zero refrigeration, and ship's systems that can be controlled by an iPhone.
Specs.: LOA: 39'4"; Beam: 12'0"; Draft: 2'10"; Disp.: 20,600 lbs.; Fuel: NA; Water: NA; Power: 2xCummins QSB 6.7L diesels. Read more
http://brooklinboatyard.com/wheeler-38/
http://www.wheeleryachts.com/wheeler-38/