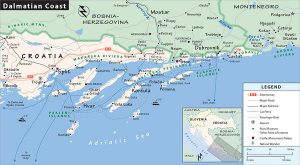 Whether you're an adventure seeker, a foodie, a history buff or just someone who wants a variety of new adventures in your next cruising or charter vacation, you'll find all the experiences you want on the Dalmatian Coast of Croatia. In the past few years, the Dalmatian Coast has become increasingly popular (largely thanks to Game of Thrones), but you still can cruise easily through the islands there at your own pace and explore to your heart's content.
The Dalmatian Coast, a narrow belt on the east shore of the Adriatic Sea backed by a rugged mountain range, is the most  historic region of Croatia. It was an early Roman province, and then it was ruled by the Republic of Venice from 1420 to 1797. Much of its architecture dates from the Roman and Venetian times.
For cruising people, the old cities along the shore offer the obvious attractions of cobblestone streets, waterfront cafes and hillside views. But the islands offshore (there are 79 of them) are beckoning also, with many of the same attractions and some of their own. Here, from The Moorings, is a guide to island hopping in Croatia, with a list of their five top spots:
1.Trogir, a historic town inside medieval walls, dating to Venetian rule,  with some of the best preserved buildings in Europe. A UNESCO heritage site. Enjoy the shops, bars and restaurants that line the cobblestone, maze-like streets.
2.Hvar Island has a combination of a vibrant nightlife and secret caves with dazzling emerald and turquoise water. You can swim in the coves, or get an adrenaline rush by jumping off the top of cliffs.
3.Vis, which remains unspoiled by tourists because of its island location. It's home to pristine and tranquil Stiniva Bay with one of the best beaches in the world.
4.Korcula (pictured at top) is one of the most historic towns in Croatia, with a small fortress enclosed by stone walls and architectural delights on almost every street. Sandy beaches are nearby.
5.Skradin has Venetian architecture dating to the 18th century. It's also the gateway to Krka National Park, with breathtaking Krka waterfalls. Read more:
https://www.moorings.com/blog/island-hopping-in-croatia