Here's some great information about chartering in St. Martin if you haven't been there before, with some up-date-advice from a charterer on a new Moorings 514 power cat.
St. Martin Yacht Charter Guide for First Time Guests
Published: January 20, 2020     Terese Kerrigan   
A logical next step for anyone looking to branch out from the British Virgin Islands, half-French, half-Dutch St. Martin is a premier travel destination and a delightfully eclectic cultural melting pot. Known for its laid-back Caribbean charm and stylish European appeal, this upscale sailing paradise boasts sparkling white-sand beaches, designer shopping, superb dining, and scenic hiking. Plus, nearby Anguilla and "A-lister" hotspot St. Barts provide visitors with an expansive island-hopping playground that is every bit as unique as it is cruise worthy.
Following their recent trip to St. Martin for a Moorings' photoshoot, two of our in-house marketing experts, Adam Rohrmann and Michael Klimek, returned from their Caribbean sailing vacation with enviable tans, glorious drone footage, and plenty of first-hand knowledge. Both guys had nothing but rave reviews to give "The Friendly Island" and were eager to share some highlights from their travels. They also provided some helpful charter tips regarding what to expect when sailing in St. Martin…
Q: Which airport did you fly into? How was your transfer from the airport to the base in Marigot?
A: We flew into Princess Juliana International Airport (SXM). Be sure to have a copy of your contract readily available and to answer any questions the Customs officers may have, like the address of the base.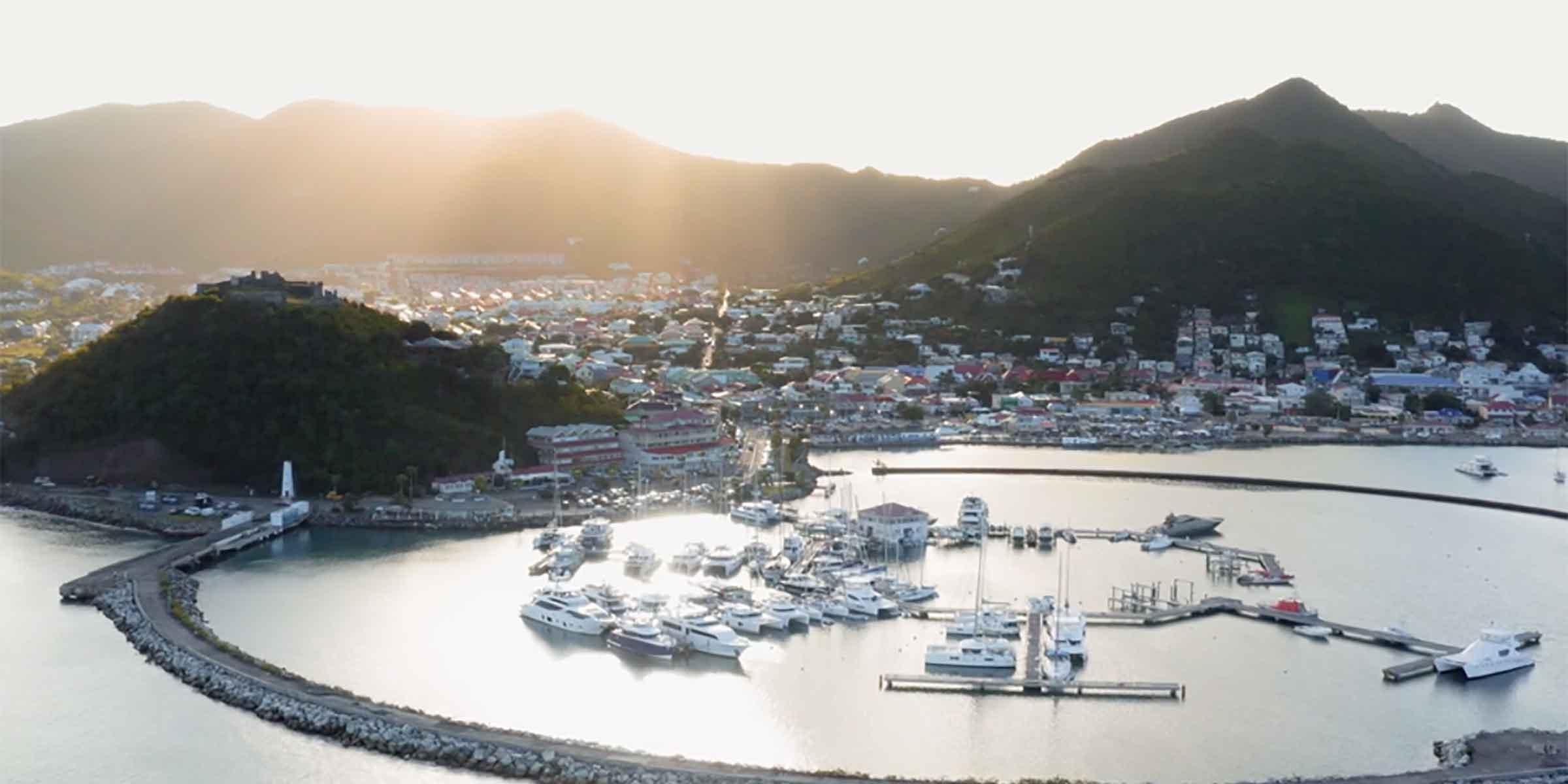 Q: What was the weather like in December?
A: It's in the heart of the Caribbean, so even in the winter it was still warm. The average temp was 80 degrees every day, although the mornings were slightly cooler. We had excellent wind the entire week.
Q: What yacht were you on?
A: We were on a Crewed Moorings 5000 sailing catamaran and a Moorings 514 Powercat (tough life! haha).
Q: Did you choose to provision? Was it easy to find the food you enjoy?
A: Yes, and it was easy to find the food we wanted. We got everything we needed for meals and snacks. It's best to provision before you go as there aren't many grocery stores. You'll mostly find liquor stores and drug stores along the way.
Super U market is a 15-minute walk or 5-minute taxi ride from The Moorings marina. Located at Howell Center, it is the biggest supermarket on the island.
Carrefour, on the Dutch side, is a regular full-service grocery store with a bakery and deli.
Q: How was the cuisine? Anything spectacular you'd recommend?
A: Compared to the BVI, there were many more restaurant options throughout the cruising ground in St. Martin and a much larger variety of cuisine options. The Sunset restaurant at Maho Beach has quick service and great food. Plus, the restaurant is elevated so you're in a prime location to witness the planes flying into Princess Juliana airport. Read more:
https://www.moorings.com/blog/st-martin-yacht-charter-advice?utm_campaign=TM%20GL%20-%20Destination-Caribbean&utm_medium=email&_hsenc=p2ANqtz–KhYmXB0r-_UgjppxsdUoQeL11