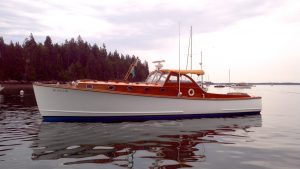 If you're starting to think about where to cruise next summer, you might want to look at Ellis Boat Charters in Southwest Harbor, Maine, right in the heart of some of the best cruising grounds in the U.S. Ellis has a series of Down East boats for day or week (or longer) charters there, and they have all the local knowledge you'll need to make sure your charter is a success.
The charter operation is a branch of the Ellis Boat Company, one of Maine's iconic builders. The charter fleet, naturally enough, has five Ellis 36s (see picture at top), plus boats from other Maine builders: one Wilber 38, one Hinckley 40 Talaria, and one classic, wooden Bunker & Ellis named Jericho (see picture above).
All the charters include a tender and proper safety and cruising equipment. Ellis Boat Company maintains the boats and provides 24/7 service. A bareboat charter starts with a full tutorial from an Ellis service rep about that particular vessel. Then you can cruise out of Southwest Harbor, or Northeast Harbor just across the way, and head up Somes Sound, which is surrounded by Mount Desert Island and Acadia National Park, or out to the islands along the coast. You also can hire a captain who's familiar with Maine waters.
The boats are in Bristol condition. A new 2019 Ellis 36 express cruiser named Salty Furlough has 6' 6" headroom in the pilothouse; a dining area can seat up to eight people. There's a large swim platform and an electric remote control system for launching the tender. The boat is powered by a single Yanmar 440-hp diesel, and cruises from 10 to 20 knots. It has a full keel and skeg to protect the prop and rudder; it also has bow and stern thrusters to make docking easy.
But if you want to step back in time, you can charter Jericho; it's considered one of the most famous of the Bunker & Ellis yachts built in the mid-1900s. It comes with a captain.
Ellisboatcharters.com