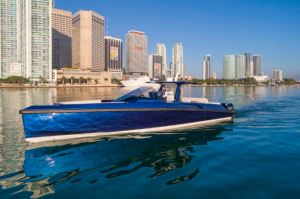 The big Miami boat shows have just started, and I've already found my next boat, or rather my next half dozen boats. (In my dreams, of course.) And considering that there are 1,800 boats here, displayed at the yacht show downtown and the boat show on Virginia Key, I still have a way to go.
I've been fortunate enough to have already climbed on half a dozen boats making their debuts here, just enough to whet my appetite for more, and to rekindle my taste for adventure. Standing at the helm of the brand-new, beautiful Sabre 58 Salon Express, which made it here on its own bottom last month from Portland, Maine, I thought everything I could see was just about right. Visibility was excellent all around, particularly aft where the two glass folding doors were open, truly making the salon and cockpit all one flowing space. The 58 is a cruiser's dream.
So far, the 58 has been a home run for Sabre; Bentley Collins the VP of sales and marketing for Sabre and Back Cove, told me they've sold 12 already to retail buyers. Base price: $2,520,000.
A short while later I was at the helm of the gorgeous Palm Beach GT60, also making its world debut here (Palm Beaches are made in Malaysia.) The Palm Beach has a very different layout than the Sabre. The galley is down, for example, and the helm is centered; you can walk around each side. And it has a warped hull, a specialty of Palm Beach founder and CEO Mark Richards. The GT60 cruises at 37 knots and tops out at 43 knots, and it's a cruising-captain's delight. Sitting on the side deck of the cockpit, Richards' pressed a remote and the entire cockpit sole rose up, revealing access to the RIB tender below. It's on rails; just slide it out. "You can pretty much do everything on this boat," Richards  said. "It does a lot of things well."
Down the dock, the Wallytender 48, was a real show-stopper, with its flowing lines and metallic blue hull (see the picture above). The aft bulwarks were folded out to make the cockpit a large social area, and the four 450-hp Mercury Racing outboards provided the power.
The Azimut 47 Verve also made its debut, with the same 450-hp Mercury Racing outboards (are you seeing a trend here?),and it had its own striking looks, although it was more of a traditional cruising boat in that it has two cabins below.
I also stepped about the new Invictus GT370, the first of the Italian brand in the U.S. With its reverse bow and low lines, it catches your eye. This one is powered by twin Volvo DuoProp sterndrives, although it also comes with outboards. Think of  the GT370 as a large, luxurious walkaround with Italian design elements.
As the shows began, Seakeeper announced it will introduce its smallest gyrostabilizer yet, designed for boats from 23 to 30 feet, in June. It weighs just 350 pounds, draws 55 amps, and costs about $15,000. If you haven't tried a Seakeeper yet, you're missing something.
And Brunswick and Mercury Marine made it clear that the big intend to get bigger. Brunswick CEO Dave Foulkes said the company will launch 96 new boats, and add 110 new Freedom Club locations, by early next year. And Chris Drees, the Mercury president, said that sales of outboards from 175- to 300-hp have doubled in the past two years, and he expects that growth to continue. The larger, and more reliable, outboards have made boating easier and more fun, he said. "People don't buy the engine," Drees said. "They buy the experience."