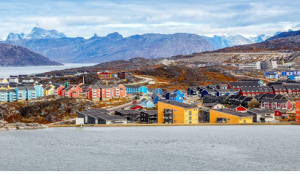 The world of adventure travel is growing rapidly, as more and more people want to try new experiences in new places. Increasingly, Greenland is one of those places.
Sure, you can cruise there on your own Nordhavn, your Fleming, or your Kadey-Krogen (among other brands), or you can relax, charter an expedition yacht and let someone else worry about navigating through the icebergs and the frigid waters.
We usually concentrate on owner-operated boats. But every once in a while it's fun to take a look at what's possible out there. If you're thinking of cruising to Greenland, for example, you might want to consider chartering Planet Nine, a 240-feet-long Ice Class expedition yacht that will carry you in luxury through the world of polar bears, narwhals, walruses, ice-blue fjords and fast-moving glaciers.
If you want to see Greenland up close, climb aboard the yacht's custom explorer helicopter. The crew can deploy it from its hanger in 30 minutes and take off and land from a commercial-grade helipad. For an even closer view, head for the yacht's large beach club at sea level.
Built by Admiral in Italy and launched in 2018, Planet Nine is designed for long-distance cruising with a range of 6,000 nm (it holds 64,722 gallons of fuel). Powered by twin 2,575 Cats, the yacht has a cruising speed of 14 knots and a top speed of 16 knots.
You won't be roughing it. Planet Nine has eight cabins for 16 guests, and a crew of 26. An elevator connects all five decks. The owner's suite fills almost an entire deck; it's 3,000 square feet and has dressing rooms, its own salon, a study and a terrace. The VIP stateroom has a private aft-facing terrace. A forward observation lounge wraps around the yacht just under the bridge. Then there's the steam-room spa, the cinema, and the Jacuzzi on the upper sun deck, among other amenities.
If your charter goes well, you can buy the yacht. Asking price is about $94 million. Read more: