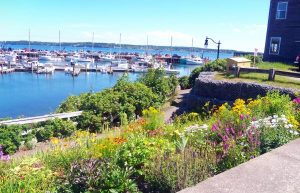 If you're cruising Down East this summer, you might want to think about heading all the way Down East, to Eastport, Maine. It's as far as you can go in the United States, just across the bay from New Brunswick, Canada, and near the top of the Bay of Fundy, with its powerful currents and 23-feet tidal range.
But if you want to experience real cruising, away from the crowds, where you can travel for hours without seeing another vessel, it's the place to go. You won't see many people either; Eastport's population is only about 1,300, but you probably will see whales, seals, porpoises and dolphins in the water and eagles, puffins and razorbills overhead. And lighthouses.
Eastport is 83 nm above Bar Harbor, and the crowds thin out and the shoreline becomes more rocky and craggy as you move up the coast. You need to be ready to be self-reliant. Jonesport, a working lobstering and fishing town, is about half way, and it has marinas, fuel and repair services. But for much of the voyage, you'll see the upper coast of Maine much the same as it appeared to the French explorer Samuel de Champlain, the first European to land there, in 1604.
Eastport itself is on Moose Island, connected to the mainland U.S. by a causeway, between Cobscook Bay and Passamaquoddy Bay. Despite its high latitude, it doesn't freeze over; in fact, it's the deepest port on the East Coast. Passamaquoddy Bay was notorious for smuggling in the Revolution and the War of 1812 (and after), and it later became a major trading center. In 1833, Eastport was the second largest trading port in the U.S. after New York City, a fact that is hard to reconcile with the Eastport of today.
In the late 1800s, Eastport was a profitable sardine fishing area, with more than a dozen sardine fisheries. The architecture today reflects its prominence then, with 29 buildings downtown listed on the National Historic Registry.
Today Eastport is quiet, with a commercial and recreational boat harbor just off the customhouse, protected by an L-shaped breakwater. You can tie up at a town float, with ten feet of water, along the inner side of the breakwater. (I did a few years ago, and it was safe and secure.) Gas and diesel is available at the nearby Eastport Chowder House dock.
Campobello Island, the summer home of FDR, is just a mile or so across the strait from Eastport, with the East Quoddy Lighthouse and its iconic red Cross of St. George. The West Quoddy Head Lighthouse, with a candy stripe, is on a 540-acre state park, and it dates to 1858 (when it replaced one that had been there for 50 years). It looks out over Quoddy Channel, the border between the U.S. and Canada.
Machias Seal Island is a small barren rock about ten miles offshore with bird colonies of puffins razorbills and auks. The island is disputed territory, but Canadians run its lighthouse.
https://visitmaine.com/places-to-go/downeast-and-acadia/eastport