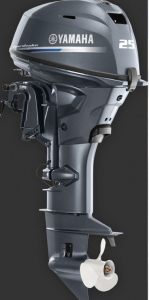 Yamaha's new portable F25 outboard is a great answer for cruising people looking for lightweight power for a RIB or a dinghy or perhaps for a second boat. Yamaha says the new F25 is the lightest 25-hp outboard on the market; indeed, it's a full 25 percent lighter than Yamaha's previous version.
The 15-inch shaft model of the F25 weighs 126 pounds. The 20-inch shaft model weighs 143 pounds.
Both models come in two-stroke or four-stroke versions, with remote or manual starting systems. The manual-start version does not require a battery, which makes it particularly attractive for a RIB or dink, where space and weight are an issue.
You also don't have to worry about any ethanol problems. The F25 has EFI, so there's no carburetor to get gummed up. The outboard runs on 87 octane fuel.
The outboard's displacement is 432 cc and it reaches 25 hp at 5500 rpm. It has a single overhead cam, two-cylinder design, with a relatively powerful 16-amp alternator and through-prop exhaust. It also has the normal forward, neutral and reverse gears.
You can push a button at the back of the throttle to adjust trolling speeds in 50-rpm increments, a feature that will appeal to many fishermen.
For portability, the F25 has an oil-retention system, so it doesn't leak if you store it on its side, and it comes with carrying handles and resting pads.
Yamaha also makes F20 and F15 portable outboards. Read more: