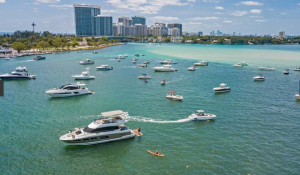 People couldn't wait to get back on their boats when Miami-Dade opened up parks and marinas there last week, after being closed for six weeks because of COVID-19.
The pent-up demand was so great that people camped out next to their vehicles on Friday night, waiting for the 6 a.m. Saturday opening at Blackpoint Marina in South Dade. Police had to direct traffic there (see the picture at top) as hundreds of cars and trucks trailering boats lined up, waiting to get in.
The marina has four launch ramps, and police let in ten cars at a time. But by 10 a.m. the marina's parking lot was full, and the police had to turn away hundreds of people still waiting outside in their vehicles.
In South Florida, boating is taken for granted as a way of life. Other marinas were crowded, but most people managed to get out on their boats. And boats in the ocean outside Haulover Inlet (see picture above) even seemed to be observing the new dictates of social distancing.
But the disappointment of people turned away at Blackpoint caught the attention of the Miami Herald. It carried an editorial saying "There's got to be a better way to handle crowds at Miami-Dade marinas." The paper suggested that people could register on line for access on a given day, or that the marinas allow access based on odd and even numbers on license plates.
"We get it that this reopening thing is new territory for both residents and government administrators," the paper said. "But it's also a sign that things will not get back to normal smoothly." Read more:
https://www.miamiherald.com/news/local/community/miami-dade/article242457051.html