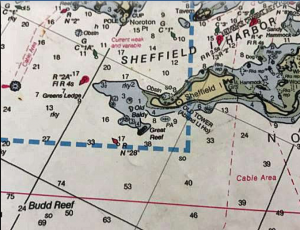 A 2010 Tiara 3900 Sovran, on a delivery from Stuart, Florida, to Portsmouth, New Hampshire, crashed into a reef off Norwalk, Connecticut, in five-foot seas recently and sank. Officers from the Norwalk Marine Police rescued the two men on board and brought them to shore safely.
Greg Mahanna, 54, had just bought the boat, named Mach 3, in Stuart and was bringing it home to Portsmouth. An experienced boater, Mahanna is the former president of the Great Cove Boat Club on the Piscataqua River there. Also on board was Tom Raynor, 61, a delivery captain from York, Maine.
The two men were almost at the end of their long voyage, and had spent the night before in Manhasset Bay on the south shore of Long Island Sound. When they left in the morning, they ran into five-foot swells, and decided to cross over to the north shore of the sound for protection.
At 8:15 a.m. the Norwalk Marine Police got a distress call on Channel 16, saying a boat with two people on board was taking on water. It had hit Great Reef off Sheffield Island, at the tip of a string of Islands off Norwalk. (See the chart, above. Great Reef is just above RN "28," a Long Island Sound marker.) The tide was rising, obscuring the reef.
Sgt. Peter Lapak, the head of the marine police in Norwalk, and Officer Michael Silva got a RIB, because of its shallow draft, and sped to the scene. Good Samaritans from two other boats tried to help Mach 3, but they couldn't get close enough because of the reef.
When Lapak got to the reef, he trimmed up the outboards and positioned the RIB upwind of Mach 3. When it drifted down to the boat, Lapak and Silva rescued Mahanna and Raynor. Lapak wrote me that Mach 3 sank about ten minutes later.
Sea Tow subsequently raised the boat and brought it to Norwalk Cove Marina. Mahanna said the boat was insured and was worth about $300,000. Read more:
https://www.stamfordadvocate.com/policereports/article/Boat-runs-aground-off-Norwalk-Islands-15250247.php