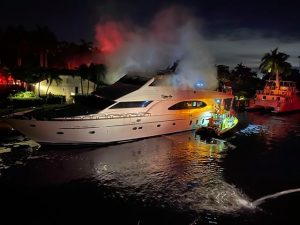 A 60-foot sportfishing boat caught fire Sunday afternoon just off Shooters Restaurant in Fort Lauderdale, temporarily closing down the Intracoastal Waterway. Just a day before, two superyachts caught fire on the New River; about 100 firefighters were involved in extinguishing those fires.
About 3:30 on Sunday afternoon, officers from the Florida Fish and Wildlife Conservation Commission had just finished a traffic stop near Shooters when they saw smoke coming from the stern of a 60-foot fishing boat. They were able to rescue seven adults, two children and a dog on board just before the entire boat erupted in flames. (See top picture.)
One of the adults, a woman, was treated for minor burns at the scene and a 7-year-old child was taken to the Broward Health Medical Center. Officials are investigating the cause of the fire.
Earlier, at 1:50 a.m. on Saturday, a 93-foot Benetti named Princeville caught fire at the Lauderdale Marine Center up the New River. More than 50 firefighters fought flames coming out of the bow of the yacht, built in 2012. Princeville had been for sale, with an asking price of $4,990,000.
Shortly after the Princeville fire, another yacht, a 98-foot Hargrave named Tigers Eye, caught fire about a mile down the river in the Riverland area. (See picture above.) Another 50 firefighters responded to that fire, with flames shooting out of the upper deck. Later, the yacht was towed to the Roscioli Yachting Center for inspection.
 Tigers Eye was built in 2007. It too had been for sale. It also had been in the charter business, with a rate of $38,000 to $42,000 a week plus expenses. Investigators are trying to determine the cause of both fires. Read more:
https://miami.cbslocal.com/2020/05/17/2-hospitalized-boat-fire-fort-lauderdale/
https://www.local10.com/news/local/2020/05/16/crews-in-fort-lauderdale-battle-separate-yacht-fires-about-a-mile-apart/
https://www.the-triton.com/2020/05/two-yachts-burn-no-one-hurt/?
fbclid=IwAR1lJsJSzA45pAa_p7zN_lJTN4IZK9XTIMzwu85whu8ibd3OpWsDkuQWHnM