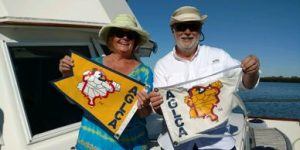 Jan and Lee Rychel finished the Great Loop in January, 2019, on their Grand Banks 46 Shangri-La, but they didn't want to give up their lifestyle. In fact, they liked it so much they wanted to share it. So they opened an onboard B&B, called Bed & Breakfast On A Boat, in Beaufort, North Carolina, and they've now expanded it to include chartered overnight cruises and trawler training.
The Rychels have been living on board since 2016, when Lee retired after more than 30 years in the home furnishing business. He had grown up on the Great Lakes and had been running boats "since I was perch fishing in diapers." He wanted to get back to his passion.
Since then, they've put more than 8,800 miles under their keel, cruising through 19 states, visiting six children and seven grandchildren along the way. Now they're tied up at the Beaufort Yacht Basin, a five-minute walk to the center of town, one of the best stops on the Waterway. Beaufort was named one of America's Coolest Small Towns a few years ago by Budget Travel Magazine, and it is indeed a charming southern town with a rich nautical heritage.
The Rychels started taking guests a year ago, and they haven't looked back. Lee says they "filled up so fast we had to block out time for ourselves." The way the B&B works is that guests have the Grand Banks' large aft cabin, with its own head and shower and climate control, to themselves. The Rychels live in the boat's forward cabin, which also has an en suite head and shower. Jan serves home-cooked breakfast and pastries in the morning, whenever the guests want them.
For his part, Lee has a USCG Master 50 Ton license, so they also offer day and overnight cruises, as something of an expanded, floating B&B, with a little travelogue or boat training along the way, if that's what the guests want.
I asked Lee about their experiences, looking back at the past year. "We were nervous at first, because we'd never done anything like this before," he wrote in an email. "But frankly, we were floored. They all, every single one, have been wonderful to have on board."
Most guests, he said, were intrigued by the Rychels' lifestyle. "They want to learn about our lifestyle and our travels," he said. "The vast majority have zero experience on a larger boat and they all have a million questions."
The B&B business took a hit this spring, with the coronavirus shutdown, but now the Bed & Breakfast On A Boat is back in business. You can book everything from a two-hour cruise for $125 to an overnight trip, anchoring out, for $300 including all meals.
Living on the boat, even for a night or two, gives people a taste of the cruising lifestyle. If anyone is seriously thinking about buying a cruising boat, they can get some first-hand experience on Shangri-La. The Rychels also will work with new owners to help them get acquainted with their vessels.
Meanwhile, the Rychels are living the dream. "I'm not sure who loves this life more, her or me," Lee says. Read more: