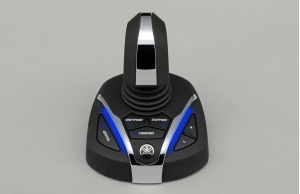 After three years of R&D, Yamaha just introduced the first joystick for boats with a single outboard. Until now, joystick controls were available only on boats with multiple engines.
Yamaha's new Helm Master EX makes it easier for drivers of single-outboard boats to control and steer their vessels. It gives captains fingertip control of steering, throttle and shifting. With its power steering, you can turn the motor from lock-to-lock in less than two seconds.
You maneuver the joystick in easy intervals. One short twist equals 1 degree of heading. A long twist produces 5 degrees of heading. A hold-and-twist repositions the heading in 5-degree intervals up to a total of 50 degrees.
Helm Master EX uses entirely new Yamaha software. And it's designed for new boats or for repowering or upgrading existing boats by a Yamaha dealer.
The new joystick has several SetPoint modes to use for adjusting speed, heading and course in autopilot mode. It has a FishPoint mode, where you can choose whether to orient the bow or stern into the prevailing wind or current (useful for catching live bait, for example), or a DriftPoint mode, which maintains heading but allows for wind and current.
For smoother controls at very low speeds, Master Helm EX incorporates Yamaha's Pattern Shift; it shifts the outboard in and out of gear automatically to allow the boat to troll as slow as ½ mph. It also offers an interface to link to a Raymarine or Garmin MFD.
The new joystick cannot walk the boat sideways, since that takes opposing thrust from two engines, and it does not spin the boat in its own length. But it certainly makes driving a single-engine outboard boat a lot easier and more fun.
The new Helm Master EX will be available in July; Yamaha says it will cost about $16,000, plus cables for the specific boat. Read more: