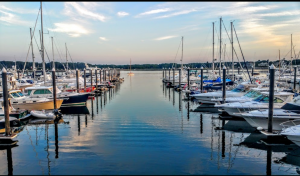 If you're cruising anywhere in the Northeast this summer, you might want to think about stopping at Portsmouth, New Hampshire. Midway between Boston and Portland, Maine, Portsmouth is a little gem of a waterfront town with a blend of history, culture, architecture and (in normal times) some fun restaurants.
And, if you don't want to take the Piscataqua River the three nm to downtown Portsmouth itself, you can tie up at the first-rate Wentworth by the Sea Marina (pictured above) and take a cab to town. The marina is at the foot of a luxury Marriott hotel and spa complex on New Castle Island, with an 18-hole golf course and outdoor pool.
One of the oldest towns in the U.S., Portsmouth was founded by English settlers in 1623. They named it Strawbery Banke because so many wild strawberries grew there. Portsmouth thrived over the early years. The fast-flowing Piscataqua never froze over, and Portsmouth offered a deep water port with access to the interior. In 1679, the seaport was a colonial capital.
In 1800, the U.S. government built the Portsmouth Naval Shipyard there. It still provides maintenance for nuclear subs. The Piscataqua provides the border between New Hampshire and Maine, with Kittery on the far side.
Portsmouth now is a major boater-friendly tourist destination. If you come by boat, you might want to be aware of the strong river current. It averages 3 knots on the flood and 5 knots on the ebb. But there are marinas downtown, starting with the town docks at Prescott Park, an easy walk to the center of town. Prescott Park has 500 varieties of flowers, and musical performances in a normal summer.
Shops and restaurants fan out from the town's historic Market Square on old winding streets and cobblestone sidewalks just up from the waterfront. You can take a walking tour from the Portsmouth Historical Society, covering 70 points of interest. And the Strawbery Banke Museum, on 10 acres, shows the evolution of Portsmouth from Colonial Times to the Second World War; it includes an enclave of 17th century homes, taverns, ships and gardens.
Naval history buffs can visit the Albacore Museum and take a tour of the dry-docked Albacore submarine. It was the world's fastest sub when it was built in Portsmouth in 1953.
In normal times, you can relax and enjoy Portsmouth's many restaurants, cafes and waterfront bars. One of my own favorites is BG's Boathouse, a casual dock-and-dine establishment with a small marina a few minutes away from downtown on Sagamore Creek. The dock has only three feet of water at mean low water, so it's best to visit in your dink. Read more: