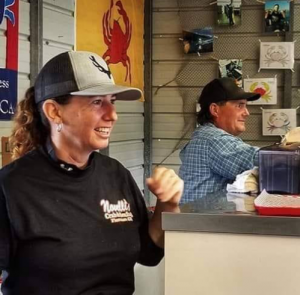 A popular couple who ran a dockside seafood restaurant in Florence, Oregon, were killed when their fishing boat hit a jetty at the Siuslaw River bar in heavy seas and capsized in the middle of the night.
The couple, Kyle and Amber Novelli (pictured above), ran Novelli's Crab & Seafood, which was popular for its award-winning chowder. They also were commercial crab fishermen. The third person on the boat, named the Aquarius, was rescued.
The Coast Guard said it received a distress call at 1:50 a.m. from the captain of the boat, saying it had hit the south jetty at the bar and was taking on water. The three people on board were abandoning ship. The Coast Guard also received a signal from the boat's EPIRB.
The Coast Guard sent a Dolphin rescue helicopter from Newport, Oregon, and boat crews. Local fire and ambulance crews also responded; they rescued one person near the shoreline at 3 a.m. He confirmed that there were two others, the Novellis, on the boat.
The seas were running 6 to 8 feet at the time, and occasionally as much as 10 feet breaking over the bar.
Over the next few hours, the helicopter crew found the two Novellis separately; they were unresponsive.
Coast Guard Senior Chief Petty Officer Jay Nilles, in charge of the Siuslaw River station, said, "This community is a family that embraces us, as we embrace everyone who crosses the bar for a living, or to recreate in the ocean. We are reminded during these times that the ocean is unforgiving, and can be a treacherous place to work and recreate."
He said that "without today's technology of VHF-FM radio communications and an EPIRB, we would not have been able to quickly locate the scene of distress, followed by the location of survivors and victims." Read more:
https://www.maritime-executive.com/article/u-s-coast-guard-responds-to-fishing-boat-accident-in-oregon
https://theworldlink.com/news/local/two-die-after-fishing-vessel-sinks-near-florence/article_d536e414-ba4a-11ea-bc30-2b49fde71a65.html