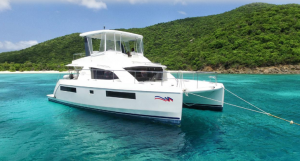 Here's some good news. It's now possible to start planning, and even start taking, some great charter vacations again. Indeed, The Moorings just reopened its Bahamas charter base in Nassau, serving the gorgeous Out Island Exumas chain, on July 7.
You have to meet the current requirements for traveling to the Bahamas, but with a little paperwork that's easy to do, and then you can take a week's charter there just the same as you could in the pre-COVID days. With its 50 years of experience, The Moorings is trying to make today's charters as easy as possible, and to insure flexibility in the event your vacation plans change because of the virus.
But the charter boats – and the 365 islands and cays that make up the 120-mile-long unspoiled Exumas archipelago – are the same as always. And the prices are at pre-COVID levels. You can book a Moorings 433 power cruiser (pictured above), for seven nights starting Aug. 15, for example, for $6,399. The boat has three cabins and two heads and can hold eight people on a cruise. It's powered by twin 320-hp Yanmar diesels.
Then you can enjoy the world-class snorkeling, fishing, white-sand beaches and barely covered sandbars that have made the Exumas a spectacular cruising destination for years. Plan to spend days when you might see only a handful of other boats.
For highlights, pick a low tide to snorkel into Thunderball Grotto near Staniel Cay and swim with the tropical fish. It's named for the James Bond movie that was filmed there. Take some grapes to feed the iguanas at Allen's Cay, and visit the swimming pigs at Big Major Spot.
Best yet, just relax and enjoy the laid-back Bahamas lifestyle. Island hop, or find a favorite spot and stay put for a while. On a bareboat charter, it's all up to you. Read more: