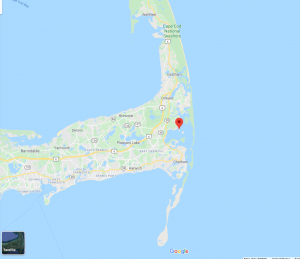 Sipson Island on Cape Cod just opened to the public – for the first time since 1711. The 24-acre island was the last one in Pleasant Bay in Orleans that had been privately owned.
Much of the island was purchased in June by the Sipson Island Trust in partnership with Richard and Cheryl Nadler, who live in Orleans, to be used by the public for conservation and education programs. At the closing, the trust took ownership of six lots on the island, the Nadlers kept 2.2 acres for themselves and will temporarily hold two more until a fund-raising drive is complete. When the trust acquires them, it will own almost 22 acres on the island.
Tasia Blough, president of the trust, said she was excited about welcoming visitors "to this extraordinary place. I've been constantly amazed by the range of beauty we're discovering. It's like unlocking a secret garden. There are so many places to explore on the trail system and along the beaches."
The island is surrounded by a critical marine habitat. The trust urges visitors to access the island from beaches on its protected eastern shore rather than from the busy channel on the west side. Visitors are urged not to wander off the mowed paths or to walk through the salt marshes. Pets, fires and public camping are prohibited.
Boats approaching the island from the north should look for a white buoy about a quarter of a mile northeast of the island, marking hazardous rocks. The trust wants to find a partner to provide boat service to the island. For now, visitors are urged to use kayaks or small boats.
A section of the island with four decaying buildings is marked off limits; the trust plans to demolish them. Over time the trust wants to let nature reclaim parts of the island so it will more closely resemble the way it looked in 1711. Read more:
https://www.capecodtimes.com/news/20200721/sipson-island-off-orleans-to-open-to-public-saturday
https://www.wbur.org/earthwhile/2020/07/24/cape-cod-sipson-island-open