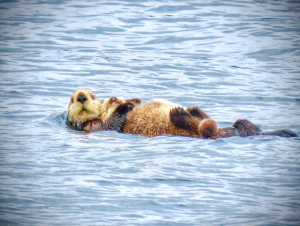 Jeff and Susie Parker hadn't really planned it this way when they left Idyll Time, their 48-foot Kadey-Krogen, in Petersburg, Alaska, last October and flew home to Tennessee. They simply figured that leaving it there would give them a head start on cruising through Alaska once the season opened again this summer.
As things turned out, that decision meant that they are able to enjoy the boat, and to cruise in Alaska now, even during the COVID-19 pandemic. Most cruisers in the Pacific Northwest aren't able to go to Alaska because the U.S/Canadian border remains closed to nonessential travel. But that didn't present a problem for the Parkers.
Last month, they simply flew from Nashville to Petersburg to start the new season, although they did have to leave their two birds, Nate and Primo, at home. When they got to the boat, they planned to self-quarantine for 14 days; a local grocery store and the Salty Pantry restaurant delivered their meals.
Since snow was still half way up the surrounding mountains, they fired up Puff, their diesel heater, and then went to work getting Idyll Time, which they bought new in 2006, ready for the season.
While they were working, Petersburg changed its quarantine requirement to just six days, and the Parkers took off. They're not exactly new to cruising, having done the Great Loop and traveled up down the East Coast many times before having Idyll Time shipped to the Pacific Northwest.
But this year is different. "This year's cruising plans are written in sand," they wrote on their blog, idylltime.com. Because some communities still have a 14-day quarantine, they said "we will more than likely bypass towns this year and spend most of our time out at anchor, which is our preferred manner of cruising anyway."
They started at Ideal Cove, their favorite anchorage with views of Le Conte Glacier, passing humpback whales and eagles. At Cannery Cove they paddled toward shore, but then found it was already occupied by more than half a dozen brown bears; Susie decided to go fishing, and caught a 45-pound halibut. They took a picture of a sea otter floating with its baby (see picture above).
Then it was on to a new anchorage on Kuiu Island, where "we ease Idyll Time's bow slowly between two massive rocks marking the entrance. Twenty or more eagles are standing guard." They found room to anchor off a sandy beach but decided not to go ashore when a big black bear ambled by.
Next, the Parkers moved to the eastern shore of Baranof Island, with spectacular high peaks and massive waterfalls tumbling down to shore. They cruised three miles up Red Bluff Bay, and found the large, protected anchorage empty. It's usually crowded with cruising boats, float planes and small tour operators, but not this year.
The Parkers saw six bears grazing in a meadow; they set crab and shrimp traps for dinner, and they relaxed. "We keep reminding ourselves how lucky we are to have left our boat in Alaska over the winter," they said. Read more: