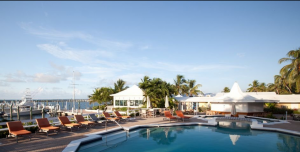 Here's good news for those of us who love cruising in the Bahamas (and I think that's just about all of us): Abaco Beach Resort and Boat Harbour Marina in Marsh Harbour on Great Abaco Island are open again, offering some of the best cruising, fishing, and just plain boating fun you can imagine anywhere.
Over the years, I've been to the Abaco Beach Resort many times, and each one was memorable, but in particular I remember a cruise with Scott Porter, the president of Formula, on one of his new boats, and fishing with Eddie Smith, the founder of Grady-White, on one of his. We ate the grouper we caught in the afternoon for dinner that night; fresh grouper is hard to beat.
On land, the resort has renovated its rooms and lobby since the hurricanes, while the marina, one of the largest in the Bahamas, is ready with 198 slips holding boats up to 200 feet LOA. Under the Bahamas' COVID-19 protocols, private charters and pleasure craft from all countries are permitted to enter, and you can fly commercially from Canada, the UK, and the EU.
To make things easy, the marina has a Customs and Immigration office. It also has 24-hour security, a standalone fuel dock, power, free Wi-Fi, cable TV hookup, pump-out facilities, showers and laundry, and just about everything you need for a successful cruise. There's also an onsite dive operator and store.
The resort has a fitness center, a new restaurant, a boutique, and a laid-back Bahamian vibe that makes you feel valued and welcome. Whatever your blood pressure is before you get there, it will drop once you arrive.
Coming by boat, it's best to take the North Man o' War channel to the North East. It has the widest and deepest approach. Entry to the marina is well marked. If your boat draws more than 7 feet, the marina recommends that you approach on no less than one-quarter tide on the rise; moon lows and highs can be up to four feet per tide cycle. Inside the marina, water depths are 10 feet MLW.
Here's where you can find the latest on the official pandemic protocols:
https://www.bahamas.com/pressroom/protocols-entry-bahamas
Read more: