Here's a look at just some of the new cruising boats, 36 to 50 feet, that, in normal times, you'd probably see at the fall boat shows this year:
BRABUS AXOPAR 37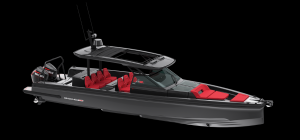 If you thought the original Axopar 37 was cool, take a look at the new version, the BRABUS Shadow 900, and it's a collaboration between BRABUS, a German company that transforms luxury cars (think Mercedes-AMG) into even higher-end luxury performance vehicles, and Axopar, the innovative builder from Finland.
For the Shadow 900, BRABUS starts with the platform for the Axopar 37 and then customizes it. "BRABUS Marine products are designed for a select group of boat owners who want to enjoy the very best exclusive boating experience for absolute individualism, ultimate luxury, and seriously impressive power and performance," the company says. Powered by twin 450-hp Mercury Racing outboards, the BRABUS Shadow 900 turns in a 60-knot-plus top-end performance.
At the show, BRABUS will launch the Shadow 900 Spyder, an open version of the Axopar 37, and the Shadow 900 Sun-Top, a cruising model. It also offers the BRABUS Shadow 900 Black-Ops, a limited-edition, hand-built model that will take six weeks to build; it will have a Black-Ops signature paint scheme, called Gunmetal Grey, combined with BRABUS red exterior seating.
Axopar has tweaked the 37 to improve its speed, range, fuel efficiency and interior comfort. The forward cabin is now 30 percent larger, with more light and gullwing doors. In response to owners' requests, it now offers an optional separate head compartment with an optional shower.
The foredeck is larger than before, and the boat has a new ergonomic helm with improved visibility and two 12-inch chartplotter displays. The BRABUS trim package includes unique cockpit and cabin seat designs with diamond-stitch patterning and a suede-covered steering wheel.
Axopar was started in 2014 and the boats, with their aggressive looks and heady performance, have become increasingly popular. The company says it is the fastest-growing brand in Europe, and it now has 13 dealers on the East and West coasts of the United States.
Specs.: LOA: 36'9"' Beam: 10'10"; Draft: 2'9"; Disp. (excluding engines): 8,310 lbs.; Fuel: 700 gals.; Water: NA; Power: 2×450-hp Mercury Racing outboards. Read more:
http://brabusmarine.com   http://axopar.fi
INVICTUS GT37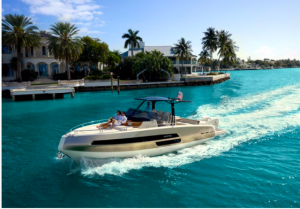 Invictus Yachts, the innovative Italian builder, is just introducing a new GT370S, with twin 425-hp Yamaha outboards, to the U.S. It had launched a sterndrive version of the boat at the Miami Yacht Show in February, but now it is offering an outboard version because outboards have become so popular here.
If the view of the Invictus' stern has changed, the view of the bow remains the same. Invictus yachts are designed by Christian Grande, the Italian designer who has won many international awards for his out-of-the-box thinking. All Invictus GTs have what the company calls a "half-reverse" bow, which certainly gives the boats a distinctive look.
Grande says the move to outboards will produce more speed. The sterndrive version topped out at 43 knots, but we don't have figures for the outboards yet. He also says the outboards contribute to a more sporty look, and that they have some concrete advantages, including easy access for repairs. And they open up space on the boat where the engines used to be.
Invictus, with its factory in Borgia, Italy, has grown rapidly in the past few years in Europe, largely due to its attention to detail, its fine styling and its semi-custom appeal. The 37, for example, has at least four possible combinations to the accommodations deck below. The factory basically will work with a buyer to provide what he wants. But the boats all have elegant touches, with soft Alcantara interiors, beautiful stitching and leather on door handles and grabrails.
The helm station has three oversized, ergonomic seats. A compact bar is concealed behind them, with a sink, fridge, icemaker and cabinets. The aft deck includes an L-shaped sofa with a folding back that can be converted into a padded platform for sunbathing. There's another lounging area on the foredeck.
The basic configuration below includes a mid cabin with two beds, and a bow cabin that can hold a bed or a large side sofa with a table, bar and TV. But you can easily design these areas to be your own.
Specs.: LOA: 37'2"; Beam: 11'4"; Draft: 3'0": Disp.: 15,212 lbs.; Fuel: 237 gals.; Water: 48 gals.; Power: 2×425 Yamaha XTO outboards. Read more:
MJM 3Z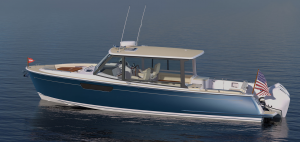 MJM just announced that it's entering the growing day boat market with a new 38-foot Dual Console 3z. It has the same Doug Zurn design that the company has used on all its Down East cruisers since it was started in 2002.
In a webinar introducing the new boat, Peter Johnstone, the MJM chairman, said the new day boat is designed "to address the way people boat around the country. Our outboard boats enabled more people to enjoy our brand. This is the way people are boating today. We'll always have our express cruisers as the core of our brand, but now we're opening up to more people."
"This is a new concept, done in the unique Johnstone/Zurn way," said Peter Truslow, the MJM CEO. "It marries form and function, with a clean-looking hull, some Down East tradition, and a sheerline that's really elegant. It's exclusively for day trips. It solves the needs of a modern boating family."
With offices in Marblehead, Massachusetts, Zurn has designed the entire MJM line, which now has 35-, 40-, 43-, 50- and 53-foot models, both inboard and outboard. All are express cruising boats.
Like Zurn's other boats, the 3z also will be lightweight, with advanced composite construction, a low center of gravity for stability, a low profile to reduce drag, and a relatively narrow beam for efficiency, performance and fuel economy. It also has a fine entry to part the waves, and some Carolina flare to throw water away from the boat.
The boat has three social areas, with seating and storage in the cockpit, the helm deck, and the bow. The helm deck is climate controlled, with a hardtop and a door leading forward. It can be enclosed aft. It has large windows, so visibility is excellent all around. It also has an optional grill, fridge, icemaker and sink. A full private head is below, to port, with a utility/storage room to starboard.
The 3z is now under construction, next to the 35z line, in the MJM plant in Washington, North Carolina. Truslow said the boat should be ready for the late fall boat shows.
Specs.: LOA: 38'2"; Beam: 11'0"; Draft: 2'8"; Disp.: 13,279 lbs.; Fuel: 250 gals.; Water: 58 gals.; Power: 2×300-hp Mercury Verado outboards. Read more:
http://mjmyachts.com     http://zurnyachts.com
HELMSMAN TRAWLER 38E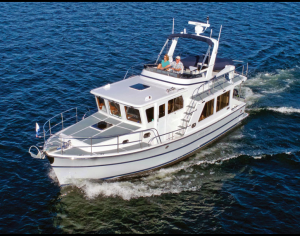 The  Helmsman Trawler 38E won the People's Choice Award at the Seattle Trawlerfest last year, quite an honor considering there were 45 other boats, from 23 to 72 feet, lining the docks there. The 38E is Helmsman's most popular model, with a raised pilothouse, flybridge, large master cabin and a full-beam salon.
Helmsman Trawlers are built in Fuzhou, China, and are designed for owners who want a quality cruising boat but don't want to overpay for one. The Helmsman line runs from 31 to 43 feet, and the boats all provide classic trawler amenities and coastal cruising possibilities. They are particularly popular in the Pacific Northwest, although they are growing in numbers on the East Coast as well.
The 38E has what the company calls a "low rise" pilothouse, meaning it's only two steps up from the salon, with open access between the two. The pilothouse is designed for long-range cruising, with an L-shaped settee that can double as a pilot berth on the port side, with a table. Two doors open out to the side decks.
In the salon, a U-shaped settee converts to a bed on the starboard side, and there are two occasional chairs to port. The galley is forward, to port. An appealing feature of the Helmsman is that the dinette and the day head can be enclosed to create a private suite. An optional layout includes a dedicated second stateroom. The master stateroom is forward, with its own head and shower. The interior is filled with warm teak and there's a teak and holly sole, although there is no exterior teak in order to reduce maintenance.
The flybridge is set aft a bit to maintain a lower profile, and the overhang from the boat deck protects the cockpit aft. Wide stairs leading to the flybridge from the sidedecks are practical and safe.
Most owners cruise the Helmsman 38 at trawler speeds of 7 or 8 knots. The boat is powered by a single 250-hp Cummins electronically controlled common rail diesel. A Vetus bow thruster is standard.
Specs.: LOA: 40'10"; Beam: 13'11"; Draft: 4'0"; Disp.: 30,000 lbs.; Fuel: 400 gals.; Water: 145 gals.; Power: 1×250-hp Cummins QSB 6.7 diesel. Read more:
HUCKINS 38 SPORTSMAN
Huckins just launched hull number one of its Sportsman 38 Hybrid, and the new cruiser topped out at 35 knots under diesel power and 7 knots under electric. The Sportsman 38 is modeled after the Sportsman 36 that Huckins first launched in 1936 (pictured above), and it still runs on Huckins' iconic Quadraconic hull. Huckins also is offering the new 38 with outboard power from twin 350-hp Suzukis.
The new 38 Hybrid is the first production boat at Huckins, which was founded in 1928 by Frank Pembroke Huckins; his granddaughter, Cindy Purcell, runs the company, in Jacksonville, Florida, today. The latest Huckins is a blend of old and new, with retro styling but with state-of-the-art battery/electric power and a lightweight hull with Corecell, e-glass, Kevlar, carbon fiber and infused vinylester resin.
The boat is designed for weekend or longer cruising by a couple, with the diesels for speed and the electric power option for silent – and green – operating. Cindy Purcell says you can cruise around your harbor at a silent 7 knots under electric and then push a button, convert to the twin diesels, and cruise around at an easy 30 knots or so. (The outboards should provide even more speed.)
Whatever the power, the new Huckins will fit under the bridges in Florida and around the Great Loop. And the cruising will be comfortable. The forward cabin has a V-shaped settee that converts to a queen-sized berth at the touch of a button. The galley is down, but the overhead is open so it gets lots of natural light. It has Corian countertops, a single-burner cooktop, a double-drawer fridge/freezer and a convection microwave. The sole is teak and holly, and the joinery is mahogany.
The cockpit has a U-shaped settee on the port side and a table for five, a grill and a powered sun shade. The helm deck has an L-shaped settee, also for five, powered side windows and two electric sun roofs. Two Stidd chairs face the  helm.
The Huckins Sportsman 38 Hybrid is scheduled to be on display at the Newport, Rhode Island, show in September. Meanwhile, hull number one is ready for visitors at the factory in Jacksonville.
Specs.: LOA: 38'3"; Beam: 12'6"; Draft: 2'6" Disp.: 18,000 lbs.; Fuel: 285 gals.; Water: 95 gals.; Power: 2×380-hp Cummins QSB 6.7 diesels and 2×20-hp Elco electric motors. Optional: 2×350-hp Suzuki outboards.
BACK COVE 39O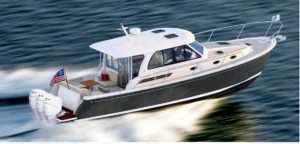 Back Cove Yachts is nearing completion of its new 390, its second outboard-powered model, building on the success of the popular 34O. Standard power on the new 39O is three 350-hp Suzukis, with a top speed of around 37 knots. Optional 400-hp Mercury Verados will push the top speed over the 40-knot edge.
The Back Cove 340, the Maine builder's first outboard boat, was named the Best New Powerboat Under 35 Feet and the People's Choice at the Newport International Boat Show when it was introduced in 2018. Back Cove hopes that the new 39O will have the same appeal to people who want a larger outboard-powered cruising boat.
The new 39O, with Back Cove's traditional low profile, long sheer and classic design, will build on Back Cove's easy-to-use and easy-to-enjoy cruising philosophy, which has made the brand, a sister company to Sabre Yachts, increasingly popular.
You can walk on the new 39O through twin transom gates, port and starboard. The cockpit has a U-shaped settee and table for al fresco entertaining. Because of the outboards, there's lots of space under the cockpit, accessed via an actuated hatch, for water toys or other storage.
The helm deck has a hard back, an unusual feature in boats of this size, so that the area is totally climate-controlled for year-round comfort. The galley is up to starboard, and the helm has side-by-side captain and mate seats, opposite a U-shaped settee that serves both as a lounge and a dinette. The aft door and the window at the aft salon bulkhead both open wide. Below, you can watch TV in a lounge, while the owner's cabin is forward with a queen-sized island berth and private access to the shower and head. There are two single beds in the guest cabin.
The Back Cove factory in Rockland, Maine, uses resin infusion and composite materials to keep the boats strong and relatively light. The 39O has a modified-V hull and Back Cove's proprietary Trailing Edge Lifting Surface for easy handling and superior performance throughout the speed range.
The boat is scheduled for sea trials next month, and public showings after that. Read more:
HINCKLEY SPORT BOAT 40x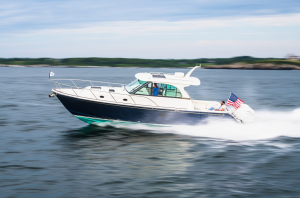 The Hinckley Sport Boat 40x was designed by the legendary C. Raymond Hunt Associates specifically for outboard power, and it has a 23-degree deadrise at the transom to cut cleanly through rough water. With standard three Mercury 300-hp Verados, the new sport boat tops out at about 50 mph; with three 425-hp Yamahas it tops out at 55 mph with a range of 341 sm.
The new Hinckley, coming from the Down East company that invented a genre when it introduced the iconic Picnic Boat in 1994, has two cabins and one head to make cruising comfortable and easy. In keeping with the times, Hinckley says the new sport boat is aimed for owners who are pressed for time in their daily lives: It's easy to run and it's easy to maintain. But it also has Hinckley's legendary luxuries: The accommodations and amenities are high-end, down to the standard cappuccino machine.
Built in Maine, the new cruiser is Hinckley's second outboard-powered 40-foot boat. The first version, the 40c, was introduced fall, and it was the center console model. The new cruising boat has a protected helm deck, with an open cockpit that has seating aft and two aft-facing seats forward. The helm deck has windows all around and two opening hatches in the hardtop. A large L-shaped settee with a teak table is to port, across from a sink, fridge and storage to starboard. A single helm seat on a stainless steel pedestal faces the helm.
Below, the master cabin has a salty teak-and-holly sole. A set of V-shaped settees with a raised teak table are forward, serving as a social or dining area during the day; at night, they convert to a double bed. The second cabin, with a berth for two set athwartships, is aft, tucked under the helm. The galley is on the port side, while the head, with an enclosed shower, is to starboard.
The new Hinckley's lines are clean and flowing; the proportions are just right and are a contemporary version of the company's classic heritage. The build is state-of-the-art. The company says the new sport boat is "the world's first production outboard boat built in single bond, vacuum-infused epoxy from stem to stern." It has fingertip Joystick Piloting to make docking easy.
I have to admit that I've been a Hinckley fan ever since I drove Dasher, hull number one of the first Picnic Boat, in Southwest Harbor, Maine, in 1994 with Shep McKenney, who then was a co-owner of the company. It was 36 feet long with a single diesel engine and water jet drive, and it was drop-dead gorgeous. Heading up Somes Sound, the Picnic Boat also was fun to drive. The new Sport Boat 40x certainly carries on that tradition.
Specs.: LOA: 42'7"; Beam: 12'5"; Draft: 3'1"; Disp.: 20,000 lbs.; Fuel: 450 gals.; Water: 98 gals.; Power: 3×300-hp Mercury Verado outboards. Read more:
NORDHAVN 41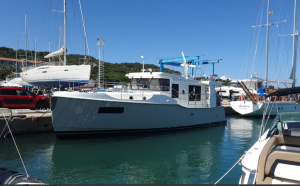 Nordhavn just launched its new 41 entry-level passagemaker, the long-awaited successor to its world-circling 40, in the Aegean Sea off Turkey.  After some initial sea trials, Jim Leishman, the vice president of PAE, Nordhavn's parent company, said he was "ecstatic" about the boat. The first two hulls are now on their way to the West Coast of the U.S.
The 41 is the smallest boat in the Nordhavn fleet, and it's the only one made in Turkey. It has already found wide acceptance with cruisers around the world. Indeed, 14 of the first 20 hulls have been reserved, sight unseen, with buyers from the U.S., Turkey, Denmark, South Africa and Australia.
Two of the first five boats will cruise right out of Turkey, taking advantage of Nordhavn's program that lets new owners use their boats in the Med before shipping them to their home ports, with Nordhavn handling all the logistics.
The new 41 has a range of more than 3,000 nm and a cruise speed of about 7 knots. A Nordhavn 40 cruised around the world in 2001 and 2002, setting a record for the fastest circumnavigation in a production powerboat. It was a popular model for the company; 69 hulls were made.
The company says the 41 is more efficient than the 40. It worked with Vripack, the Dutch design firm, to create a new hull form for the 41. The new boat is designed to cruise anywhere in the world; it has a CE rating of Category A, the highest level of safety.
The 41 is powered by two 75-hp Beta diesels, and they're protected by a long keel. Twin engines represent a bit of a change for the smaller Norhavns, which usually have a single. The company says each engine can drive the boat to its cruising speed.
Inside, the boat has a large master cabin in the bow. A second cabin can be tucked under the helm on the starboard side. Two more people can sleep on the convertible sofa in the salon. The galley is up, on the port side, opposite a two-person helm seat.
Specs.: LOA: 41'4"; Beam: 13'11"; Draft: 4'6"; Disp.: 43,300 lbs.; Fuel: 900 gals.; Water: 300 gals.; Power: 2×75-hp Beta diesels. Read more:
BENETEAU 41 SWIFT TRAWLER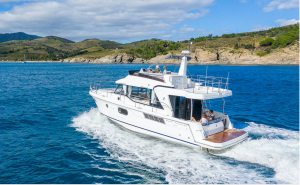 Beneteau's new Swift Trawler 41 is the Goldilocks of coastal cruisers: It's large enough to hold a crowd, but it's small enough to be handled easily by a couple.
The Swift Trawler 41 does indeed have a lot of living and entertaining space, inside and out, but it's also a seaworthy cruising boat, giving a stable and comfortable ride throughout the speed range. And it's easy to handle around a dock, with bow and stern thrusters. Experienced cruisers also will appreciate the side door next to the helm that gives immediate access to the starboard side deck, for help with docking or line handling.
Full disclosure here: I have a soft spot in my heart for the Beneteau Swift Trawler line. Several years ago George Sass, Sr., and I took a Swift Trawler 34 from the top of Lake Michigan down to Chicago and then down to Hoppie's on the Mississippi below St. Louis as part of a Great Loop cruise. It was easy to live on, and easy to cruise on, even going across Lake Michigan. We both greatly enjoyed the boat.
With more space and a longer waterline, I can only imagine that the 41 would provide an even better cruise. The other major difference from the 34 is that the galley is aft, giving easy access to the cockpit for dining inside or outside the boat. In the 41, the aft bench seat in the cockpit is on sliders, so you can move it forward or aft, depending on how much room you want in the cockpit or on the swim platform. The lazarette has plenty of room for cruising gear or water toys.
The salon has large windows all around, including the glass door aft, so, like the 34, it has excellent visibility. But here the captain's helm seat rotates, so it can face aft to join people at the dining table.
Below, the master stateroom is forward with an island bed, lots of storage space, and a head with a separate shower. A guest cabin on the port side can be ordered with a double berth or twin berths; a third cabin on the starboard side has room for a single berth or for storage and a washer/dryer.
On the flybridge, there's a single helm chair with settees stretching back on both sides. The two settee seatbacks flanking the helm are reversible, so they can face forward or aft to enjoy an outdoor meal or cocktails around a table on a pedestal. There's also a large boat deck aft.
Another social area is all the way forward. The foredeck has two separate sun lounges there, with backrests, providing unrestricted views underway or at anchor.
The Beneteau Swift Trawler 41 comes in both flybridge and sedan versions. Powered by twin 300-hp Volvo inboards, the flybridge tops out at 24 knots. At an easy cruising speed of 16 knots, it has a range of 257 nm.
Specs.: LOA: 41'1"; Beam: 13'9"; Draft: 3'9"; Disp.: 24,332 lbs.; Fuel: 309 gals.; Water: 106 gals.; Power: 2×300-hp Volvo inboard diesels. Read more:
PROTECTOR 410

Protector has launched its new and improved 410 Targa flagship, with a fresh hull design for better performance and a new cabin for more creature comforts. With three 450-hp outboards, the new super-strong RIB tops out at about 70 mph, while maintaining Protector's reputation for superb rough-water performance.
For the new 410, the New Zealand company has widened the hull by 14 inches, using a winged flare to increase the interior space and improve the walk-through area. It extended the deep-V hull all the way aft for cutting through the rough stuff; it has an 18-degree deadrise at the transom. And Protector increased the internal beam to 9' 6" for more space on deck.
Protector also redesigned the passageway so you now can walk around the exterior of the cabin to reach the foredeck without having to step on the tubes.
The pilothouse now has more headroom and a sliding sunroof to let in more air, and the rooftop is extended aft for more protection aft. Below, the cabin is larger and includes an enclosed head with standing headroom.
Protector has two lines of RIBs. The Chase line of center consoles, from 25 to 41 feet,  and the Targa line of hardtops, from 31 to 41 feet. Protector has been supplying boats to the New Zealand Coast Guard since the mid-'90s, and Protectors also have become popular as chase boats for the America's Cup and other regattas, as tenders, as police and search-and-rescue vessels, and as go-anywhere, all-purpose recreational and adventure boats.
Specs.: LOA: 41'0"; Beam: 13'0"; Draft: 23"; Disp.: 17,500 lbs.; Fuel: 317 gals.; Water: NA; Power: 3×450-hp outboards. Read more:
http://protectorboats.com    http://anywateryachts.com
TIARA 43 LE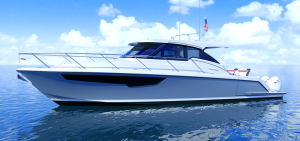 Tiara is building a new 43 LE, the first model in its Luxury Express series, with sports styling, upscale touches, and outboard power. The 43 LE is scheduled to be launched later this summer.
The new boat has an innovative seating arrangement up top, and two staterooms and one head with shower below. The master stateroom is forward with an island queen berth, and the guest cabin is amidships with a double berth.
The 43 LE is a sistership to the popular 43 LS that was launched at the Fort Lauderdale show in 2017 with a first-of-its-kind 360-degree rotating seating in the cockpit. The new boat has the same performance hull, with a 21 degree deadrise at the transom.
The 43 LE comes with two power options: Three 425-hp Yamaha outboards, and a base price of $978,000, or three 450-hp Mercury Racing outboards, and a base price of $1,081,000.
On the foredeck, the 43 LE has a recessed chaise lounge and sun pad to create a separate social space. Aft, the cockpit expands with drop-down gunwales on each side, and it has an updated version of the rotating lounge.
The rotating module now has multiple locking stations, so the lounge can face forward, aft, or sideways, looking out over the drop-down "terraces," and it has a built-in footrest. A removable high-gloss table fits into the module to hold drinks or dinner. There's also an electric grill aft.
The helm is  protected by a molded, full-beam fiberglass hardtop with a skylight. The two-person helm and companion seats also swivel to face forward, while underway, or aft, to face the amidships galley.
Specs.: LOA: 43'6"; Beam: 13'0"; Draft: 3'5″; Disp.: 22,100 lbs.; Fuel: 400 gals.; Water: 60 gals.; Power: 3×425-hp Yamaha outboards; 3×450-hp Mercury Racing outboards. Read more:
OCEAN ALEXANDER 45 DIVERGENCE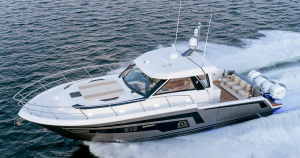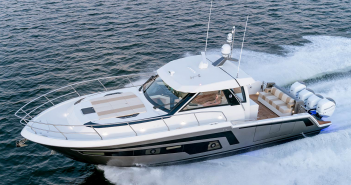 Ocean Alexander just launched its new 45 Divergence Coupe, an outboard-powered, two-stateroom cruiser with all the comforts of a yacht but with the size, speed and handling of a sportboat. The Coupe, with a fully enclosed, climate-controlled salon and helm deck, is an update of the 45 Divergence that Ocean Alexander introduced at the Miami show in February, 2019.
Several high-end builders, including Hinckley and MJM, have introduced outboard-powered boats lately, but Ocean Alexander was the first to move down significantly in doing so. Indeed, Ocean Alexander's luxury fleet runs from 70 to 155 feet.
There was so much interest in the original 45 Divergence, that Ocean Alexander decided to launch a Coupe version, with more traditional cruising amenities. There's now more interior space and amenities for a long weekend or even an extended cruise for a couple or a small family.
The cruising will not only be comfortable; it also will be fast. Powered by four 400-hp Mercury outboards, the 45 Divergence Coupe tops out at 41 knots and cruises at 26 knots. The hull has an 18 degree deadrise aft so the boat rides easily at both low and high speeds.
It also has the high-level, yacht-like fit and finish that marked the original Divergence. And it has the same innovative bulwarks that drop down from both sides of the cockpit; each one is large enough to hold a small table and two chairs.
But the new Divergence now has a large sliding glass door leading to the salon; it has windows all around for lots of natural light. It also has a large U-shaped sofa on the port side with a high-low table. The helm is to starboard.
Below, the L-shaped galley has lots of counterspace and storage for cruising; it's on the port side, and an L-shaped settee with a high-low table is to starboard. The master stateroom, with an island queen bed, is forward, with an en suite head and shower. The second stateroom is amidships.
Ocean Alexander offers a wide range of options for the Divergence, just as it does for its larger yachts; indeed, there are more than 400 cosmetic variations, so you can customize the boat to fit your own tastes.
Originally, Ocean Alexander planned to debut the 45 Divergence Coupe in March, at the Palm Beach boat show, but it was cancelled because of the coronavirus crisis. But you can now see the boat at the factory in Merritt Island, Florida.
Specs.: 47'5"; Beam: 13'9"; Draft: 3'11"; Disp.: 40,100 lbs.; Fuel: 500 gals.; Water: 82 gals.; Power: 4×400-hp Mercury outboards. Read more:
GREENLINE 45 FLY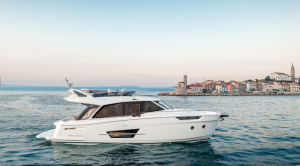 The new Greenline 45 Fly, the latest addition to the Slovenian builder's hybrid fleet, was just shown at the Miami boat show in February. It has many power options, but with Volvo's IPS600 pod drives it tops out 30 knots. Under all-electric power, it tops out at 6.5 knots, but those miles go by in peace and quiet, leaving behind zero carbon footprint.
The new Greenline is meant to provide lots of cruising comfort, with many social areas, a light-filled interior, and a basic two-stateroom, two-head accommodations plan. The hull and exterior design are by J&J Design in Slovenia, with the interior by Marco Casali, of Italy's Too Design studios, which specializes in superyachts.
The swim platform can be lowered via hydraulics for water sports, but it also serves as a base for using a small outdoor galley that is built into the transom, outfitted with a wet bar, sink and barbeque. The cockpit itself has a large settee facing a wooden table on two stainless steel pedestals. It's protected by the overhang from the flybridge.
A large glass bifold door opens on the port side to connect the cockpit to the galley, aft in the salon. A large lifting window is next to the door on the starboard side; it lifts up on a gas strut. Then a counter folds out from the galley to serve as an aft-deck bar.
The galley itself, on the starboard side, has home-style appliances, including a full-size fridge and freezer, an induction stove, and a microwave. One step up, the salon has a large U-shaped settee, with a table, on the port side, and a two-person settee to starboard. The helm seat is to starboard, with a door opening to the side deck, providing easy access for docking or maneuvering in a lock.
Below, the full-beam master stateroom is amidships, with an island king-sized bed, walk-in closet, vanity, and head with separate shower. Large windows cut in the hull sides let in lots of natural light.
The VIP cabin is in the bow, with a queen bed and its own walk-in closet. Cutouts in the forward bulwarks provide light for the cabin trunk windows. The VIP cabin has a private entrance to the day head, with a separate shower. The large closet area here can be converted into a third cabin with a bunk bed and a hanging locker.
Up top, the flybridge has a lounge and sunbathing areas, a two-person bench seat, helm seat, and a large wet bar. An optional hardtop has enough solar panels to triple the Greenline's solar panel capacity.
The foredeck has another sun lounge with an optional Bimini, and it holds two 300-amp solar panels in molded-in recesses on the coach hardtop. A 3kW inverter can run the boat's systems on its batteries alone. The Greenline also has an Onan 11kW genset.
Greenline offers an unusual range of power for the 45 Fly, ranging twin 220-hp Yanmar diesels with shaft drives to Volvo IPS600 pod drives. With twin 370-hp Yanmars, the boat has a top speed of about 23 knots.
Specs.: LOA: 51'11"; Beam: 14'11"; Draft" 3'7"' Disp.: 31,752 lbs.: Fuel: 400 gals.; Water: 176 gals.: Power: 2×220-hp, 320-hp, 370-hp Yanmar diesels, or 2xVolvo Penta IPS500/600 pod drives.
NORTH PACIFIC 49 PILOTHOUSE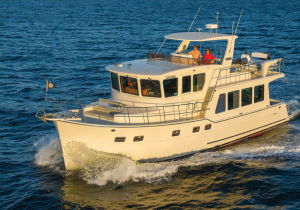 The North Pacific 49 Pilothouse is a sturdy, no-nonsense, long-range coastal trawler that's easy for an owner-operator to run – and to maintain. Indeed, there's no exterior teak at all, although the boat has a rich teak interior, down to the teak-and-holly sole.
The standard power is a single 355-hp Cummins diesel, which produces cruising speeds in the 7- to 10-knot range. Other engines are available, including twins or get-home engines. With a single, the boat has a hefty skeg to protect the running gear. The large rudder and bow thruster make dockside maneuvering easy, and a stern thruster is optional.
The heart of the North Pacific 49 is the raised pilothouse. It has a raked windshield, twin adjustable helm chairs, and an L-shaped settee that can be converted to a pilot berth while underway. Side doors open to the foredeck and to stairs that lead aft up to the fly bridge.
Up there, the hardtop is standard, and the helm is centered with a seat for two. An L-shaped settee and table are on the starboard side; a bench seat is to port. The boat deck is aft.
The salon, with a first-class fit and finish, is full beam, which is unusual in this size boat. The side windows are large, so it's filled with light. The galley is forward to port and it's made for cruising, with a full-sized fridge, lots of storage, and granite counters. A large bar area is aft.
A centerline door leads to the cockpit. It has twin boarding doors and a center transom walkthrough to the integral swim platform.
The 49 comes with three layout options on the accommodations deck: Two staterooms with two heads; three staterooms with two heads, and a full-beam midship master with the VIP cabin forward, with two heads.
North Pacific Yachts was founded in 2003 by John Brice and his son Trevor, who knew what they wanted in a new trawler and couldn't find it on the market. They decided to build their own. Since then the company has built more than 130 yachts; the fleet now runs from 44 to 59 feet.
Several years ago, I tested a new North Pacific with Trevor, who now runs the company, in Vancouver, and I was impressed by the quality of the build, inside and out. North Pacific knows how to build a solid, comfortable cruising boat.
Specs.: LOA: 51'4"; Beam: 15'5"; Draft: 4'10"; Disp.: 48,000 lbs.; Fuel: 500 gals.; Water: 350 gals.: Power: 1×355-hp Cummins QSB diesel. Read more:
BURGER 50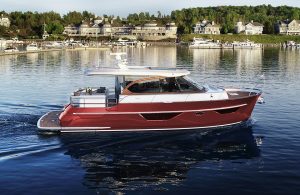 Burger just launched a new 50 Cruiser, with an aluminum hull by Vripack and an interior by De Basto Designs, in its yard in Manitowoc, Wisconsin. Founded in 1863, Burger is one of the most historic names in American boating; it usually makes larger yachts, up to 260 feet. The company uses all that experience to create a semi-custom build for its 50 Cruiser line.
The new boat is powered by twin 600-hp Volvo IPS800 pod drives, delivering a cruising speed of 26 knots, a top speed of 31 knots, and a range of 300 nm. It has Vripack's patented Slide Hull, which reduces pounding and produces a smooth, efficient ride throughout the speed range. The hull's relatively large volume forward also allows for more spacious accommodations.
The newest boat is Burger's third in the 50 cruiser series. Each one is different. As in Burger's larger yachts, owners can customize much of the interior, selecting high-quality finishes and hand-crafted details.
"This yacht will be a sparkling example of Burger's shipbuilding heritage," says Jim Ruffolo, president and CEO of the Burger Boat Company. "The Burger 50 Cruiser is everything an owner is looking for in a yacht. Luxury, style, comfort, modern technology and an heirloom to share with family and friends for a lifetime of adventurers."
The salon, with a galley up, is filled with natural light from windows all around, and from an electric sunroof forward. The galley is fully equipped for cruising; a large, U-shaped dining area is opposite.
The aft deck is protected by the overhang from the cabin top, and it has U-shaped seating aft and gates on each side for easy access. The swim platform lowers hydraulically to help with launching and retrieving the tender and to make it easy to enjoy watersports. The transom contains a barbeque area with counter space.
Below, the Cruiser 50 has two staterooms with en suite heads. The full-beam master is aft with a queen berth and a private seating area. Large windows, and two opening portlights, let in natural light. The guest cabin is forward and the queen-sized berth can be configured to two singles.
Burger builds the 50 with marine grade aluminum and offers a lifetime warranty on the hull, plus a five-year blister warranty.
Specs.: LOA: 49'8"; Beam: 15'2"; Draft: 4'3"; Disp.: 46,000 lbs.; Fuel: 565 gals.; Water: 135 gals.; Power: 2×600-hp Volvo IPS800 pod drives. Read more:
OUTBACK 50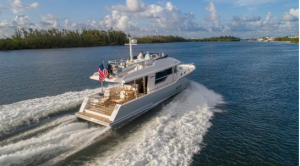 The new Outback 50 is designed for active boat owners, people who want to go places and do things. Its most noticeable feature is its open transom and "infinity deck" aft that can hold a small vessel, jet skis, or other toys.
Many years in the making, the Outback 50 has a serious cruising pedigree, a collaboration between Michael Peters, the well-known designer, and Andrew Cilla, the owner of Luke Brown Yachts in Fort Lauderdale and a long-time cruiser. Over some drinks about ten years ago, Cilla asked Peters to design the perfect cruising boat, and Peters sketched the first rendering of the Outback 50 on a bar napkin. But they had other things to do, and they put the project aside.
The time was right three years ago, and they got serious about it. The boat was built at the Kha Shing yard in Taiwan, and Peters and Cilla called in John Olson of Offshore West to be the U.S. distributor.
When I first heard the name of the boat, I assumed it was an Australian boat, but the "outback" refers to the aft deck. The boat is designed as an easily driven utility cruiser with maximum performance and cruising comfort. The engines, twin 270-hp Volvo diesels, are mounted under the aft deck to enhance access and reduce noise and vibration.
The Outback 50 has a top speed of 20 knots and a cruising speed of 16 knots; it has a range of just under 1,000 miles at 8 knots. Optional twin 425-hp Cummins will push the top speed to 25 knots and the cruising speed to 21 knots.
A keel protects the running gear and props, and the boat has a shallow draft of just three feet, making it possible to cruise in many areas of the Bahamas or explore remote anchorages and coves that would not be accessible on most 50-foot boats.
Hull number one, the boat at the Lauderdale show, has thee staterooms and two heads below. Hull number two, built for an owner in Newport Beach, California, has two staterooms and one head.
On the main deck, the galley is forward, on the port side, opposite the helm. A door opens from the helm to the starboard side deck for easy access during docking or line handling. The salon opens directly to the aft deck for a natural flow between the indoor and outdoor spaces.
The Outback 50 has a low profile, even with its flybridge. It has an upper helm station with two seats, and a settee and table. The boat deck aft can hold a davit and a RIB.
The transom has stainless steel gates that you can remove easily to load any boats, toys or dive gear. The open aft deck also can be used as a large entertaining space with lounges and a barbecue or wet bar.
To a large degree, the Outback 50 can be customized to meet an owner's desires. The standard version has a starting price of $1.5 million.
Specs.: LOA: 56'3"; Beam: 15'6"; Draft: 3'0"; Disp.: 40,000 lbs.; Fuel: 550 gals.; Water: 150 gals.; Power: 2×270-hp Volvo diesels.
VICEM 50 CLASSIC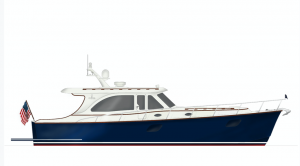 Vicem, the Turkish builder of upscale Downeast-style cruising boats, is making a new 50 Classic that's scheduled to reach the U.S. in October. Vicem is known as a leading builder of cold-molded wooden yachts, but the new 50, a larger version of the company's popular 46, will have a fiberglass hull and superstructure and a high-quality wood interior.
Vicem is making the new 50 Classic out of fiberglass for faster delivery and for easier maintenance. Overall, the boat is a combination of ageless style, contemporary performance, and old-world craftsmanship.
Hull number one will have a single-stateroom layout, suitable for a couple on a long voyage. The large master stateroom is forward with an en suite head and lots of storage. A two-stateroom layout is an option, but Vicem emphasizes that it can customize each interior per the owner's wishes, even down to the finishes, countertop surfaces, cabinetry, and cabin soles. The boat also is available in salon and flybridge versions.
Powered by twin 435-hp Volvo IPS600 pod drives, the Vicem 50 Classic cruises at 24 knots and tops out at 28 knots. The company says that optional 625-hp IPS800s increase those speeds by several knots.
"We believe the 50 Classic fits a perfect middle ground for customers between the 46- and 55-foot range in the Classic Series," says Yigit Akbarias, production manager. "The 50 will give customers 400-nm range, excellent seakeeping, and accommodations luxurious and comfortable enough for longer trips."
Specs.: LOA: 52'0"; Beam: 14'5"; Draft: 3'8"; Disp.: NA; Fuel: 528 gals.; Water: 200 gals.; Power: 2×435-hp Volvo IPS600 pod drives. Read more: