Hinckley is building a 35-foot outboard boat that looks pretty much like its iconic Picnic Boat, except for the twin Verados hanging off the stern. Indeed, says Scott Bryant, the company's VP of sales and marketing, the new 35 "has the Hinckley curves, but with outboard propulsion."
The new 35, already under construction at Hinckley's yard in Trenton, Maine, on the mainland just across from Mt. Desert Island, is not Hinckley's first outboard boat. The traditional Down East builder introduced a Sport Boat series two years ago with outboards, first a 40c and then last year a 40x, with more interior space for cruising. But that series did not have the same look as the iconic Picnic Boat that Hinckley launched in 1995. Picnic Boats also had jet power.
"The 35 represents a new chapter in Hinckley's extraordinary story," says Bryant. "Its design and construction deliver new levels of speed, safety and strength. Yet it still offers the timeless experience of style, comfort, and craftsmanship that a Hinckley owner deserves."
For the 35, Hinckley turned to Michael Peters Design in Sarasota "to create an optimized hull shape with wider chines and strakes providing lift and stability for outboard-powered speeds up to 48 mph." The new boat will capitalize on Hinckley's 25 years of experience in infusing carbon-fiber hulls laminated with post-cured epoxy. The boat will have a moderate deadrise for comfort and performance in a variety of sea conditions.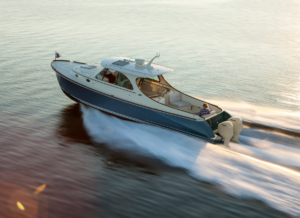 It also will have the Hinckley hallmarks of craftsmanship and highly varnished woodwork that identify the Picnic Boats, but Hinckley is reserving the Picnic Boat designation for boats with water jet propulsion. Standard power on the new 35 will be twin 300-hp Mercury Verados that are expected to push the boat to a top speed of 42 mph. Optional 350-hp outboards will hit 48 mph. Range with the standard 300-hp outboards will be more than 300 miles at 35 mph.
The new 35 will have the one-piece ClearView windshield that was first used on the 40x last year. And it will have joystick controls at the varnished teak helm station.
The first boat will be launched in June. Hinckley says it has already sold three, just from the renderings. Base price: $825,000.
Specs.: LOA: 38'8"; Beam: 11'0"; Draft: 2'10"; Disp.: 13,174 lbs.; Fuel: 300 gals.; Water: 35 gals.; Power; 2×300-hp Mercury Verado outboards. Read more: