Sealegs, the New Zealand company that's been making amphibious boats since 2005, is now making a 12M Cabin RIB, and Sealegs says the 38-footer is the largest amphibious production boat in the world.
Powered by twin 400-hp outboards, the new 38-foot Sealegs can top out at 40 knots in the water, while its 94-hp gas engine will propel it to 5 mph on land. With hydraulic wheels and motors built into its 37-inch tires, the 12M Cabin is an all-wheel, all-terrain vehicle; indeed, it can climb a 25 percent grade.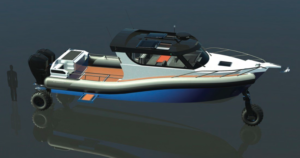 On the water, the new 12M Cabin RIB has more creature comforts than any previous Sealeg. The cabin can be equipped with a galley, including a stove, sink and fridge, a head, air conditioning, four berths, a barbecue, an electric sunroof, and a retractable boarding platform. (The boarding platform means you don't have to get your feet wet when you climb on or off the boat. Just climb on, or off, while it's still on land.)
Sealegs are made to appeal to people with waterfront property or anyone who does not want to have to use a trailer or tractor to launch and retrieve a boat. Since it can hold up to nine people in the cabin version and up to 12 in a more open version, it also would be an attractive addition to a waterfront family compound or resort; it also could serve as a tender to a superyacht.
The Sealegs' hull is built with marine grade aluminum. It has a 15-degree deadrise at the transom.
Specs.: LOA: 38'0"; Beam: 11'10"; Draft: NA; Disp.: NA: Fuel: 132 gals.; Water: NA; Power: 2×400-hp outboard engines. Read more at http://sealegs.com and see the video below: