Will your next RIB be powered by an all-electric outboard? It will indeed, if Andy Rebele, the founder and CEO of Pure Watercraft in Seattle, has anything to say about it.
Started in 2011, Pure just got a major infusion of cash, some $23.4 million in Series A funding, to expand its Pure Outboard business. The funding was led by L37 Ventures, a San Francisco venture capital firm that specializes in disrupting markets, with help from some Amazon executives and others.
The new money will let Pure expand its operations in Seattle. It has already been beta testing its first 1,000 all-electric outboards; now it plans to ramp up manufacturing and start shipping in time for the 2021 boating season.
The basic idea is that a Pure Outboard weighs the same as a 20-hp gas outboard, but has the same power as a 50-hp gas outboard. The Pure is made for new models or rebuilds; it needs just two cables to connect the outboard to the battery pack and throttle, and the outboard fits most boat transoms.
The appeal is that the all-electric outboard is silent, it has no fumes or emissions, it's lighter than a gas counterpart, it has no scheduled maintenance (with very few moving parts), and it should last a decade. A refill costs just a few dollars' worth of electricity.
For boat owners, the appeal is that they don't have to worry about stopping at a fuel dock to get gas for their dinghy or RIB; they don't have to carry gas cans on board the mothership, particularly if they have a diesel vessel.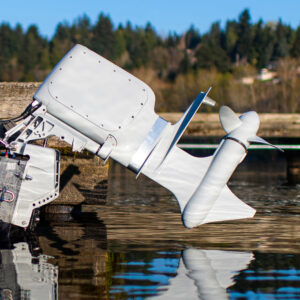 Rebele takes "the Model T approach" to the business, offering exactly one model. He says the most popular outboard in the world is the 40-horsepower gas motor, and that's what he hopes to replace. His Pure Outboard package consists of a 105-pound motor ($6,000); a 115-pound lithium-ion battery ($8,500), and a battery charger ($2,000). All the components can be shipped by UPS.
He says the 25kW motor is the equivalent of a 50-hp gas outboard. At 120V, it takes 4.5 hours to recharge the battery from half to full; at 240V, it takes 1.5 hours.
Rebele has made deals with a few boat companies, including Highfield Boats, to offer complete electric-boat packages. The Highfield Classic 360 is an 11' 10" RIB with a 5' 8" beam. With the Pure Outboard, it has a top speed of 25 mph, and a range of 10 miles at that speed; at 5 mph, the range is 21 miles. The complete package is $24,000.
A larger Highfield, the Classic Deluxe 380 (pictured above), is 12' 6", and the complete package with the Pure Outboard is $29,000. Read more: