Limestone Boats, a favorite in New England and the Great Lakes for generations, is coming back. It has new ownership, a new factory, and new models (all outboards), but it still has the help of Mark Ellis, its iconic designer.
Ellis designed the first Limestone, a 24, about 35 years ago. It was made in Ontario, Canada, as were all subsequent models. But the company has been bought by a group under Scott Hanson, the former head of Rossiter Boats, which acquired the molds and the manufacturing and branding right from Ellis.
The new company, The Limestone Boat Company, has moved manufacturing to Tennessee, but it has hired Ellis to be involved in the evolution of existing designs and in creating new models.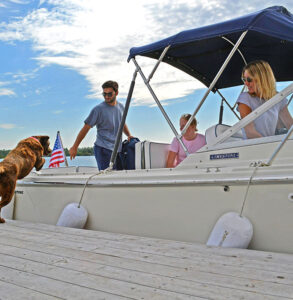 Most Limestones previously were sterndrive boats. All the new models, from 17 to 29 feet, will be outboard boats; they will be runabout, cuddy cabin, center console and dual console models. The first boats will be ready later this fall; the complete lineup is scheduled to be built by spring.
Ellis founded Mark Ellis Design, in Essex, Connecticut, in 1975. He has designed powerboats for Limestone, Legacy, Pilot, BlueStar and Abaco, plus many sailboat companies.
"Limestone is best known for their timeless design, big-water performance, quality and functionality," Hanson said. "Its recognizable, unique deep-V hull and forward flair provide a forgiving ride and an unmatched assurance of safety." He said the new boats would have "technology enhancements and deck arrangements that offer sociability, accessibility, functionality and adaptability – all important features for today's boater." Read more: