Metal Shark Boats just launched a unique 148-foot aluminum catamaran, an expedition yacht that has enough range to cross the Atlantic four times without refueling. It is the Louisiana yard's first superyacht, and the first in a series of future long-range recreational cats.
The new yacht is named Magnet, and Metal Shark, which makes commercial and military vessels, turned to Incat Crowther, a design firm with headquarters  in Sydney, for help. Incat Crowther specializes in designing large commercial catamarans.
Powered by twin 2,600-hp MTU diesels, Magnet has a top speed of 27 knots. At its most efficient cruising speed of 10 knots, it has a range of 11,000 nm.
The yacht's owner, George Wallner, of Miami, worked with Metal Shark for many years in building the new cat. Wallner, according to the Miami Herald, is "a serial entrepreneur in the payment industry," and a billionaire.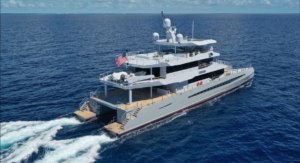 "I wanted a serious, rugged, purpose-built vessel capable of reaching the remote, unspoiled destinations that you can't get to with an airplane," Wallner said. "With Magnet, I can travel to faraway places, and everyone on board can enjoy the adventure. Upon arrival, we can stay for extended periods, independently and comfortably, without reliance on a large crew.
For his part, Chris Allard, the CEO of Metal Shark, said that "Magnet's chiseled lines were inspired by our military patrol vessels."
The yacht's cat design gives it inherent stability, longer range, and higher speeds than most monohulls of the same size. The twin hulls create space for crew quarters, a wine cellar and enough refrigeration for long voyages. The upper three decks are for the owner and guests, with a master suite, a VIP stateroom and three guest cabins.
The top deck has an outdoor sun lounge and al fresco dining area, with a bar, fridge and icemaker; the fly bridge helm is forward. The company says the interior is decorated in the style of a "high-end city apartment," with large windows all around for ocean views.
Specs.: LOA: 158'0"; Beam: 39'0"; Draft: 6'7"; Disp.: 240 tons; Fuel: 29,000 gals.; Water: NA; Power: 2×2,600-hp MTU diesels. Read more and see the video below: http://metalsharkboats.com