Here's something new: A "trimonoran." Yes, trimonoran, a new hull shape that's supposed to combine the best features of a trimaran with those of a monohull.
So far, the trimonoran exists as an 82-foot foot concept yacht with a 32-foot beam designed by Baran Akalin, in Istanbul, working with the Dutch engineer G. Jelle Bilkert and the Dutch builder AnwigemA BV. They have tank tested the first foiling trimonoran, named Escalade, and say it offers 30 percent more space, and 30 percent more efficiency, than a monohull.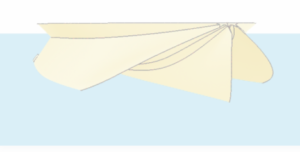 The main hull is flanked by two thinner hulls beneath the waterline. They fan out at an angle from the center (think of slices from an orange) and are linked below the waterline with hydrofoils to create lift. The low drag creates more speed, projected at 42 knots, while burning less fuel and producing longer range. Escalade is powered by a hydraulic propulsion system; the engines are placed amidships and the props are on the aft foil.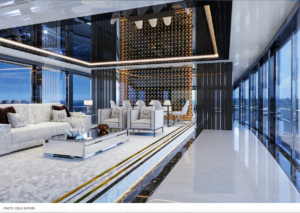 The yacht has four staterooms with en suite heads, plus a crew cabin, and the lavish interior was created by British designer Celia Sawyer. The main deck has an open living plan, designed to equal the interior of a superyacht. The salon has a mirrored ceiling and marble floors and it's in two sections: The galley is on one side and a raised lounge and dining area are on the others.
Doors lead to the side decks and the foredeck, with large sun pads, and the cockpit, which is another social area. A central staircase goes up to the flybridge; it passes under a Jacuzzi with a glass bottom. Read more:
https://competition.adesignaward.com/gooddesign.php?ID=104269