A new resort will open next month on a private island just a ten-minute boat ride from Cruz Bay in St. John. The resort, the Lovango Resort & Beach Club, will be the first resort to open in the U.S. Virgins in 30 years. And it will have moorings and tender service if you want to arrive on your own boat.
The Lovango resort is the third boutique property in the Little Gem Resorts portfolio, which already includes The Nantucket Hotel and Resort, and the Winnetu Oceanside Resort in Edgartown on Martha's Vineyard. It will open in stages over the winter and spring.
The first portion to open will be the full-service beach club with an oceanfront restaurant; the hotel component, a collection of bungalow cottages and luxury tents, will open this winter.
A regularly scheduled private ferry will carry guests to and from Cruz Bay. The resort also is not far from the National Park and beaches on St. John. A stay at Lovango includes a private day trip to a beach of your choice.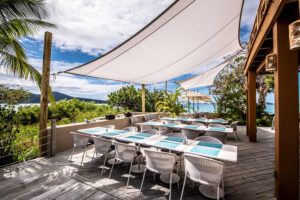 The resort has its own beach, an oceanfront infinity pool, and it offers snorkeling equipment. A dive shop and a local artisan's collective are next to the dock.
To protect the island's fragile environment, the resort is entirely off the grid, with its own solar and wind power, plus a back-up generator. It also is working with the University of the Virgin Islands to restore and protect the coral around the island.
Once everything opens, you can rent an entire villa or individual rooms at the resort, for the night, week, or longer. Guests will have their own private concierge for the length of their stay. They also can opt to add a three- or four-night yacht charter as part of their vacation.
The U.S. Virgins are open to travelers during the Covid-19 pandemic, but everyone five years old and older must submit proof of a negative Covid-19 test within five days or their arrival, and must upload their information to the USVI Travel Screening portal before departure (see the link below). They also must provide the original test results and travel certification from the portal upon arrival. Read more: