Billy Joel's classic 57-foot commuter yacht Vendetta, launched in 2005, has had a two-plus year refit in Newport Beach, California, and now is up for sale.
I have to admit that I have a soft spot in my heart for this boat. I was the editorial director of Yachting at the time, and I went to its launch party on a hot July afternoon at the Derecktors' Yard in Mamaroneck, New York, and then tested it the next morning with Doug Zurn, the designer, and Gene Pelland, Joel's full-time captain, taking it out to Joel's waterfront estate on Centre Island on Oyster Bay on the north shore of Long Island.
The next day Joel and his wife Kate took the boat on its maiden commute into Manhattan. Joel was so happy he was singing "I'm in the mood for love," along the way.
Billy Joel, aka "the piano man," is one of the best-known rock stars in the world. He recorded his first gold album back in 1974 and, at 71, he's still going strong. But he's also a boat nut. Over the years, he's owned about two dozen boats, starting with an 18-foot wooden lapstrake and including a Wilbur 34, Jarvis Newman 46, 65-foot Florida Bay Coaster, and 95-foot Inace steel cargo ship. Plus the 36-foot BHM swordfishing boat Alexa, named after his daughter and the subject of his hit song "The Downeaster Alexa."
But two boats are the most important here. First, is a Steiger Craft 23 with an enclosed house that he used to commute from Oyster Bay to Manhattan. And second is the 38-foot Shelter Island Runabout, that he had Zurn design and Peter Needham build at the Coecles Harbor yard on Shelter Island at the end of Long Island in 1996.
Then came Vendetta. He asked Zurn to design a commuter yacht with the speed and performance of the Shelter Island Runabout, but with the iconic looks of the low, sleek yachts that carried the Vanderbilts, the Whitneys, and the Pulitzers, among others, from their Long Island estates to their offices on Wall Street in the '20s and '30s. Think Aphrodite. Joel wanted to commute in something larger and more comfortable than the 23-foot Steiger Craft.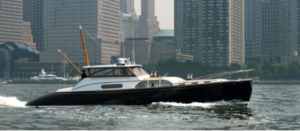 The result: Vendetta (above), with the same lines, tumblehome and torpedo stern as Aphrodite, but with a high-tech hull including SCRIMP technology, vinylester resin infused with a Kevlar hybrid cloth to keep weight down and add to speed. The hull and deck were laid up at North End Composites in Maine and were then moved to Coecles Harbor for finishing. But Coecles Harbor had a sudden rush of orders for the Shelter Island Runabout, so the boat was finished at Derecktors. At the time, Vendetta, at a cost of about $2 million, was the most expensive boat in Joel's fleet.
Powered by twin 1,300-hp MAN diesels, Vendetta topped out at 43 knots on our first sea trial. After some tweaking, it hit 47 knots.
Around the time of the launch, Billy Black, the photographer, and I visited Joel at his "chart room," on the second floor of a smaller building next to his beautiful brick Georgian Revival mansion on Centre Island. Filled with half-models, line drawings, nautical flags and charts, it served as his boating office, and it had sweeping views of Oyster Bay.
Joel clearly loved talking about boats, and at one point I asked him why he named his new yacht Vendetta. "Because living well is the best revenge," he said, laughing. "I live in a Gatsby-type house, and now I have a Gatsby-type boat. I enjoy that lifestyle."
The whole point of Vendetta's commuter design was that it was meant for exactly that: commuting. I was surprised when I walked below with Zurn before the sea trial to find that there weren't any staterooms. The interior had a small galley with a dining table and a seating area and then facing settees forward. A small head was all the way up in the bow. As Joel said, he wanted to use the boat to commute to work or concerts in New York; if he had to spend the night, he'd go to a hotel.
Joel eventually took the boat to Florida (and his waterfront home in Palm Beach) and finally put it for sale. Northrop and Johnson displayed it at the Palm Beach boat show in March, 2016, with an asking price of $1,195,000.
But Joel changed his mind, and donated it to the non-profit SeaKeepers Society to use in a fundraising campaign. Two boat lovers from Southern California bought it and used it and then took it to the Newport Harbor Shipyard for a refit.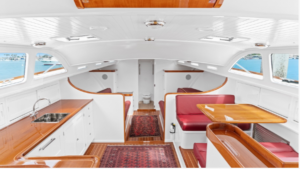 They hired Zurn to increase the seating, extend the helm deck aft, and create a large lounge aft that wraps around the curve of the transom. They took off Vendetta's original mast and boom and created a contemporary stainless steel mast on the cabin top. They freshened up the interior.
Now they have the boat for sale at Fraser Yachts. Fraser says the refit took more than two years, and that a recent survey placed the value of the boat at $3.8 million.
Specs.: LOA: 56'4"; Beam: 15'0"; Draft: 3'11"; Disp.: 40,850 lbs.; Fuel: 684 gals.; Water: 132 gals.; Power: 2×1,300-hp MAN diesels. Click on the link below to see a video of the boat:
https://www.fraseryachts.com/en/yacht-for-sale/vendetta/