Stuart Bee, 63, is a lucky man. He was rescued, clinging to his sinking 34-foot Sea Ray, about 86 miles offshore on Sunday morning, almost two days after he left his marina in  Port Canaveral, Florida.
Here's the story from the Coast Guard: Bee left Cape Marina in Port Canaveral about 4 on Friday afternoon. When he didn't return Friday night, his family raised the alarm, since he usually didn't spend the night on the water. The Coast Guard said it got a call at 11:40 on Saturday morning from someone at the marina, also saying Bee was overdue.
The Coast Guard launched a C-130 Hercules plane to look for Bee. It also notified mariners in the area to keep a lookout. The U.S. Customs and Border Patrol joined the search.
It turned out that the boat had mechanical  problems. Bee said he woke up Sunday morning with water rushing into the forward cabin.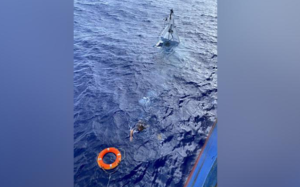 Later Sunday morning he saw a container ship, the 225-meter Angeles, and waved his shirt to get its attention. The crew saw him, threw him an orange life ring, and helped him on board. He was not injured.
In a Facebook post, Lacruiser Relativo, one of the crew, said, "I saw his teary eyes as he made the sign of the cross. He was drifted in the open sea for days, maintaining his stance at the top of  his capsized boat, not to make any single move as it may trigger his yacht to sink fully."
The Angeles was heading for its next scheduled port in Wilmington, Delaware, where Bee's brother will meet him and take him home. "This is a truly incredible outcome that demonstrates the bond among all mariners and our community," said Capt. Mark Vlaun, the commanding officer of Sector Jacksonville. Read more:
https://coastguardnews.com/missing-mariner-located-86-miles-east-of-port-canaveral/2020/11/29/