Pacific Asian Enterprises, the parent company for Nordhavn, just announced that it's building an all-new Nordhavn 51 long-range cruiser, a larger version of the 41 that it launched last summer.
The new 51 will have two staterooms and two heads, a flybridge and an elevated pilothouse, all offering upgrades from the 41. The 51 will be built on a production line in Turkey, next to the 41. The two boats will offer a streamlined building process that does not allow for the individual customization that's possible on other Nordhavn models.
The 51 will be powered by twin 160-hp John Deere diesels, and the boat will have a CE Certified Category A classification for serious offshore voyages. The 41 also had that certification; it was Nordhavn's entry-level passagemaker, a long-awaited successor to the Nordhavn 40 that cruised around the world in 2001 and 2002. The 51 is designed to cross oceans; it will have a range of at least 3,000 nm.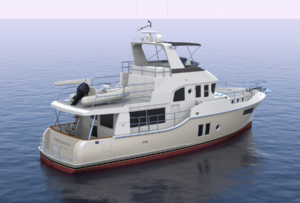 The interior of the 51 will have the same finish as on the 41. It also will be produced as a fully ready-to-cruise vessel, complete with stabilizers, bow thruster, davit, and electronics as standard equipment. Price is $1.5 million.
The hull of the first 51 is scheduled to be laid up in March, and the boat is expected to be launched in the summer of 2022. Stay tuned…
Specs.: LOA: 50'9"; Beam: 15'8"; Draft: 4'9"; Disp.: 71,575 lbs.; Fuel: 1,450 gals.; Water: 300 gals.; Power: 2×160-hp John Deere diesels. Read more: