Mercury just introduced its new V12, 600-hp giant outboard, a move that will surely cause more cruising boat owners to choose outboard performance.
The world's first V12, the new Mercury Verado also has the first steerable gearcase on an outboard; it pivots independently underwater while the engine remains fixed, providing more room for multi-engine applications and a wider steering angle for agile maneuvering. Mercury says the gear case rotates 45 degrees side to side, about 15 degrees more than a conventional outboard
The 7.6 liter Verado also has the first two-speed automatic transmission on an outboard, optimizing engine rpm depending on the workload, providing both faster acceleration and more efficient cruising performance.
Several boat companies have already designed boats around the new outboards, including the Formula 500 SSC and the Tiara 48 LS. With four of the new 600-hp outboards, the Formula hit a top speed of 70 mph; with three, the Tiara topped out at just over 60 mph.
In the past few years, outboards have become increasingly popular in the cruising boat market. But now manufacturers can mount fewer outboards on a cruising boat to deliver the same – or better – performance than they could achieve with a larger number of smaller horsepower powerplants. Decreasing the number of engines opens up more space, lowers the cost of maintenance and provides greater fuel efficiency.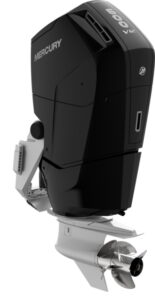 "With boats continuing to grow bigger and performance expectations continuing to rise, boaters have been asking for a better, more capable high-horsepower solution to meet their needs," said Chris Drees, president of Mercury Marine. "The V12 Verado outboard is Mercury's answer."
The new  four-stroke Mercury has a naturally aspirated, large-displacement, quad-cam powerhead that delivers a lot of torque to get a boat up on plane quickly, and then to accelerate to higher speeds. The company says it also is fuel efficient throughout the speed range.
"It's incredibly fuel efficient, so boaters can go farther and stay out longer," Drees said. "It's so smooth and quiet that you can have a conversation while the engines are running. It's durable, reliable, and easy to maintain. There's nothing else like the V12 Verado outboard in the marketplace today."
The new V12 weighs 1,260 pounds. By comparison, Mercury's 450-hp Verado weighs 689 pounds. And the V12 costs $77,000.
With the new 600, Mercury kept the same general look of previous Verado models, but with some crucial updates. "We made it a little softer, more luxe vs the older aggressive look," said David Foulkes, the CEO of Brunswick (Mercury's corporate parent). "We like to think of it as less a fighter jet and more like a corporate jet."
The 600-hp Verado is available in several colors, including Phantom Black and three shades of white – Pearl Fusion White, Cold Fusion White, and Warm Fusion White.
The outboard will be available this spring. Read more here, and see the video below: http://mercurymarine.com