Here's a way to travel in style: The 97-foot luxury super-barge named Savvy that was built to cruise the canals and waterways of Europe in luxury and comfort.
Savvy is no normal canal barge. It was built by Hakvoort, the Dutch yard specializing in superyachts, and the interior was laid out by H2Design, the British firm that also usually works with large yachts.
Most canal barges are about half Savvy's size. Its steel hull measures out at 97' 7", making it one of the largest, if not the largest, of luxury canal barges. It has a slimmed-down beam of just 16' 1" and a draft of 3' 9", so it can go just about anywhere on the inland waterways.
And the going is easy. On Savvy, you can visit picturesque villages along the canals, take to the bike paths, picnic on shore, or relax in the boat's Jacuzzi. Use it for vacations, as a floating office, as a live-aboard, or as a pied-à-terre.
The current owner, Peter de Savary, does all those things. A British entrepreneur, de Savary owns clubs, boutique hotels, and a lot of boats. You might remember his name from the 1983 America's Cup, when he was the head of the British Victory 83 syndicate. It lost out to Australia 11 in the challenger finals; the Australian boat, of course, won the Cup and took it away from American shores for the first time ever.
De Savary bought Savvy in 2016, after the previous owner spent $1.3 million on new furniture and upholstery. He then took it back to Hakvoort for more upgrades. Then he cruised in Holland, Belgium, France and Germany.
The boat has an unusual propulsion system. Two Northern Lights generators feed a huge bank of batteries that power a 110-kW electric motor and a 147-hp diesel. The boat cruises at 6 knots and tops out at 7.5 knots. It has a range of 820 nm at 6 knots.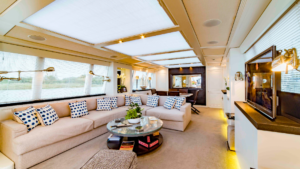 The accommodations include a full-width owner's stateroom in the bow. A twin-bed cabin is back along a corridor, and a third cabin, an office/study, has a bed that can sleep two.
On the foredeck, you can step into the Jacuzzi and a covered lounging areas with a sofa and table. Doors lead aft to the elegant salon, dining area and galley. The helm station is at the stern, along with a large sofa for relaxing. The aft deck also has access to the two cabins for crew, with their own head and shower and galley.
Savvy is now for sale through Peter Insull for $2.7 million. De Savary is moving on. He just bought a house in Majorca where he keeps his 65-foot Royal Huisman cruiser. He also has a restored 1964 Riva in Newport, Rhode Island, and he just bought a former Venice water taxi for his home in southwest England.
Specs.: LOA: 97'7"; Beam: 16'1"; Draft: 3'9"; Disp.: 100 tons.; Fuel: NA; Water: NA; Power: 1×147-hp TBC diesel. Read more: