If you're heading for Foxy's Tamarind Bar on Jost Van Dyke in the British Virgin Islands, you may  not find Foxy himself. That's because Foxy (Foxy Callwood ) is spending a lot of his time at his music school down the road behind the restaurant, helping kids from the islands.
Foxy's has become an institution of almost folklore proportions ever since it opened on the beach in Great Harbour in 1968, a destination for cruisers and charter-boat customers from all around the world. (If you don't have your own boat, you can take the ferry from West End, Tortola, across the way.) The food is good, the drinks and the bar are spectacular, and Foxy is known to hold court at any given time, entertaining guests and playing his guitar.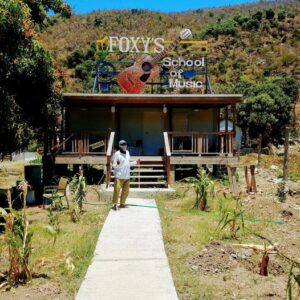 If you don't have a good time at Foxy's, well, there might not be much hope. The bar opens at 9 a.m. and the restaurant serves lunch and dinner daily. In season, there's live entertainment after dinner and as Foxy's says on its website, "the bar stays open until the party is done." On Friday and Saturday nights, Foxy's holds a barbeque on the beach.
Foxy rebuilt the music school two years ago, after the hurricanes, and now it serves as a gathering spot for local artists as well as many of the musicians who pass through on their own vacations. It provides free classes for all school-age children, while preserving the islands' own musical culture and traditions. It also offers classes in music production and recording, with access to a recording studio. You can see, and hear, Foxy himself below: