John Wayne's first boat,  a 76-foot wooden yacht launched in Boston in 1932, is not doing well. Wayne bought the boat from his business manager in 1955, reportedly after Wayne caused some damage while running it himself. Now the boat, which he named Norwester, is partially underwater at Prevost Harbor on Stuart Island in the San Juans.
In recent years, Norwester has been used as a floating museum and a charter boat, based in La Conner, Washington. On a recent Saturday, it left La Conner and a few hours later it issued a distress call. It had hit a rock at low tide in Prevost Harbor, which is just south of the Canadian border, and was taking on water.
Several private vessels responded, and the Whatcom County Sheriff's Office Marine Patrol arrived within 15 minutes. They had been on a regular patrol a few miles north when they heard the call. The Marine Patrol then transferred eight people and a dog from the Norwester to their boat. No one was injured.
A short while later, a boat from TowBoatUS arrived, and a diver said there was a one-foot gash in the hull. "They hit hard," one rescuer said. Extra bilge pumps could not keep up with water rushing into the boat. The Coast Guard then asked the owner to drop anchor to prevent the boat from floating away at high tide.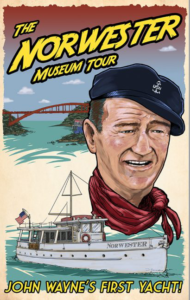 When he owned it, Wayne used the boat to entertain his friends, including Betty Davis, Orson Wells, Cary Grant and Gary Cooper. Powered by twin 671 GMC diesels, it has three cabins sleeping six, plus two in a crew quarters.
When Norwester was used as a floating museum, visitors could see vintage movie props, posters, and some of Wayne's personal memorabilia, including his coffee cup, a cowboy hat, his Lilac Vegetal after-shave lotion, and his shaving brush. Read more:
https://laconnerweeklynews.com/Content/Default/Community/Article/Iconic-John-Wayne-yacht-runs-aground-in-San-Juans/-3/495/5003