Most of us think about trading up after we've had our boats for a few years. Not Tom Brady. But then Brady, who's arguably the Greatest of All Time NFL quarterback, is probably working on a different timetable than the rest of us.
Indeed, two weeks after he moved from New England to Tampa last year to play for the Bucs (after winning six Super Bowls with the Patriots), Brady ordered a $2 million Wajer 55 yacht and kept it behind his house on Tampa Bay. Brady then cruised it in Tampa's water parade after the Bucs won the Super Bowl in February, managing to complete a pass of the Lombardi Trophy from the stern his boat to his long-time teammate, Rob Gronkowski, on the bow of the following boat.
Last week, Brady announced that he's moving up – to a $6 million Wajer 77. He did this on a video call during Wajer's introduction of the new 77 in Amsterdam. Dries Wajer, the company's managing director, said Wajer contacted existing owners when they started planning the 77, and 15 of them, including Brady, signed up for the new yacht.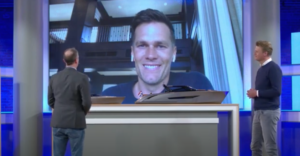 For his part, Brady said he and his wife, super model Gisele Bündchen, and his three children love the 55. "We spent Christmas on the boat," he said. "We spent New Year's on the boat. The kids love it."
But they also spent time in the Bahamas, and the idea of a larger boat appealed to them all. The Brady family loves to cruise around the islands and to dive and snorkel, he said. "The 55 is an amazing boat for a family," he said, "but now we can look forward to something a little bigger."
The Wajer 77 has four cabins with en suite heads and lots of room for outdoor living and entertaining. There's room inside too, with standing head room of 7' 9" (Brady is 6' 4'.)
The aluminum yacht has a deep-V hull with a 21-degree deadrise at the transom. It's powered by three 900-hp Volvo IPS1200 pod drives, giving it a top speed of 37 knots and a cruising speed of 30 knots. The company says it has a range of 400 nm.
Brady, 43, has a $50 million two-year contract with the Bucs, and he's made more than $200 million just in his NFL contracts, playing for the Patriots for two decades. And Bündchen was one of the highest-paid models in the world for many years.
Specs.: LOA: 77'0"; Beam: 19'0"; Draft: 5'9"; Disp.: 102,000 lbs.; Fuel: 1,270 gals.; Water: 200 gals.; Power: 3×900-hp Volvo IPS1200 pod drives. Read more at http://wajer.com and see a video of the 77 here: