Zeelander, the Dutch builder of high-end yachts, just announced that it's building a new 48-foot Zeelander 5, replacing the award-winning Z44. The Zeelander fleet also includes a 55 and a 72. A rendering of the new Z5 is shown above.
The new Z5 will be the second in a new generation of yachts for Zeelander, following the 72 (pictured below) that was launched in 2019. The company announced that it is changing its naming convention, so the Z72 will be rebranded as the Zeelander 7.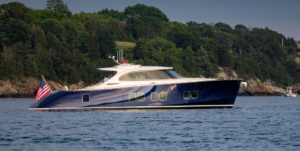 Zeelander owner Sietse Koopmans says the new yacht will be made for people who want something distinctive. "At Zeelander, we want to inspire people to be extraordinary," Koopmans says. "The Zeelander 5 is an embodiment of that philosophy. A refined yacht that stands out. The exterior is a continuation of the lines of the successful Z72, and the interior design is truly exceptional for a yacht of this size."
For power, the Z5 will rely on three Volvo IPS pod drives, and it will have Volvo's Assisted Docking system with fingertip joystick control. Like all Zealanders, the new 48-footer will have a super-yacht-quality fit and finish.
It also will have Zeelander's high-tech components to deaden noise. "The Zeelander 5 will become the quietest vessel in its size range," Koopmans says. Since Zeelander was founded in 2002, the company has focused on noise reduction. Koopmans says he is "obsessed with sound and vibration. I even founded a company that specialized in it."
I know from my own experience that what Koopmans says is true. In June, 2019, while on a test of the then-new 72 off Newport, Rhode Island, with Koopmans driving, I registered just 72 dB(A) sound levels at the helm when the boat was going 39.8 knots into a 14-knot headwind with a two-foot chop.
The first Zeelander 5 will be launched at the yard in Groot-Ammers, just east of Rotterdam, early next year. We don't have more details now; stay tuned. Read more: