After cruising in northern Europe for the past four years, James and Jennifer Hamilton are heading back home to the United States on their Nordhavn 52, Dirona. They're now in mid-Atlantic, about half way between their last stop, Horta in the Azores, and their final destination, Charleston, South Carolina.
The Hamiltons already have a circumnavigation and two Atlantic crossings under Dirona's hull. A high-tech couple from Seattle, they bought Dirona new in 2009 and have been living aboard and cruising since 2012. On this latest venture, they left Newport, Rhode Island, in May, 2017, and have been cruising in the U.K.,Belgium, Germany, the Netherlands and Scandinavia ever since.
They were in Dublin, Ireland, at the end of April (see the picture below), and had planned to cruise back to the U.S. from there, but then worried about having to put in to ports that might not be entirely welcoming to foreign vessels because of the pandemic.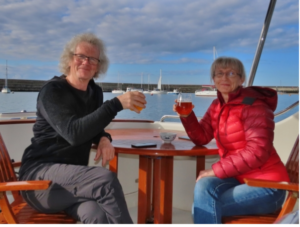 So they started the first leg of their trip home with a 1,330-nm, eight-day run down to the Azores, first filling up with 1,435 gallons of fuel for the main tanks and three ATL bladder tanks. They would need the extra fuel for the second leg, the 3,000 nm from Horta to Charleston.
"Most of the trip south from Dublin was excellent," Hamilton wrote on their blog, mvdirona.com. Once in Horta, they refilled the all the tanks again, and then waited for a weather window.
Dirona is powered by a single 266-hp John Deere diesel; it also has a 40-hp Lugger as a get-home engine. With all the tanks full, it has a range of 4,000 nm. The Hamiltons usually cruise at about 8 knots.
The first few days out of Horta, Hamilton said "the conditions are amazing," but then the weather turned. Earlier this week, he said, "it is unusually rough out here today," and he was hoping it would settle down overnight.
"It's not the roughest conditions we've seen," he wrote, "but it's up there. Probably in the top five. We're in 12- to 14-feet seas and some as high as 20 feet on a ridiculously short seven seconds. Winds in the 30- to 35-knot range with gusts to 43. Just moving around the boat takes care and planning. Some waves tower over the pilothouse."
Dirona was facing some large swells, and Hamilton dialed back to the 5- to 6.5-knot range. They also edged a bit south to find some smoother weather. Stay tuned: