A father and son team are heading 1,000 nm up the Inside Passage from Bellingham, Washington, to Juneau, Alaska, and back, on a 27-foot solar-electric boat. They say they will be on the first totally solar-electric boat to make the trip.
The boat is a Solar Sal 27, built by Sam Devlin at Devlin Boat with the father and son team, David and Alex Borton; the electric power was designed by BRJ Solutions. (David is a retired professor at Rensselaer Polytechnic Institute in Troy, New York.) The boat, named Wayward Sun, has a 4kW Torqeedo electric motor, an array of solar panels on the roof, and two Lithium batteries that give it a top speed of 6 knots.
The idea is that the boat can cruise indefinitely with the batteries being recharged by the solar panels. On a sunny day, the Bortons say they can cruise between 4 and 5 knots for nine hours without drawing down the batteries; on an overcast day, they can do 2 to 3 knots. But the solar panels do recharge the batteries to a degree on all but the worst-weather days.
The Bortons left Bellingham on Tuesday (after a first start on Sunday was ruined by a problem with the rudder that occurred during trailering), and spent the first night in Sucia Island in the San Juans. They said they would adhere to the Covid regulations and make a through-transit voyage in Canadian waters, never getting off the boat.
Devlin built the Wayward Sun with a slippery hull; the boat barely makes a wake at its cruising speed. It's designed to be stable and seaworthy, with a protected cabin and an innovative waterless head system. Devlin used the stitch-and-glue building method that he's been using for 40 years on wooden boats, with an Awlgrip finish on the exterior.
The Wayward Sun has series of Solbian flexible solar  panels on the roof that feed the batteries. The Bortons have conducted extensive tests to determine how much electric power it takes to move the boat through the water.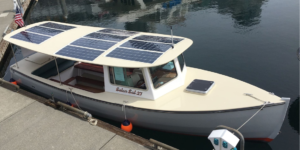 It takes 1,000 Watts to go 4.5 knots, which they say is the boat's sweet spot; 3,000 Watts produces 6 knots. The empty batteries can charge in two sunny days, but the Bortons say they will never drain the batteries all the way down.
Under battery-power alone, without any input from the solar panels, the boat can run for 10 hours at 5.5 knots. Meanwhile, the boat needs minimal maintenance, it does not use any fossil fuel, it has no emissions, no exhaust and no noise.
As a side note, I've cruised the Inside Passage, from Seattle to Juneau, and back, and the currents can be fierce in some places. Although the days at that latitude are long this time of year, they also are often overcast, or rainy. We'll follow the Wayward Sun on its journey.
Specs.: LOA: 27'5"; Beam: 8'1"; Draft: 1'8"; Disp.: 3,600 lbs., Fuel: solar/electric; Water: NA; Power: 4kW Torqeedo electric motor. Read more: