Scott Akerman, our Cruising Odyssey partner and ad director and a professional captain, is on an epic delivery of a 2018 Coastal Craft Concord 65 from Midland, on Georgian Bay in Canada, to Portland, Maine. Captain Eli Bliss is the only other person on board. They just transited the historic, 27-mile-long Welland Canal that connects Lake Erie and Lake Ontario. Here's Scott's report:
We started the day at Sugarloaf Harbour Marine in Port Colborne, a quaint Canadian village near the head of the locks. The marina had new floating docks and is a convenient, 15-minute walk to town through well-manicured streets; you'll find banks, restaurants and grocery stores there.
First opened in 1829, the Welland Canal has eight locks. If you're going upbound, toward Lake Erie, you need a minimum of three people on your boat; if you don't have that many, you can hire a hand for the day for $300.
We're going toward Lake Ontario, so we only need two crew. I'm told the reason is  that when they locks are lowering, it's pretty mellow, but when they're filling, there are 92,000 gallons of water rushing into the lock, and it can get awash with a boil of currents.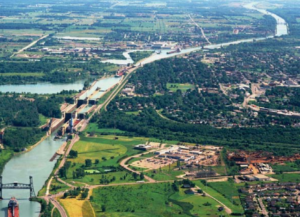 I suggest having either sailing, gardening or work gloves as you'll be alone handling lines a good part of the day. Having a rigging knife isn't the worst idea, either. The yacht behind us had a crew member cleat his line in such a way that it suddenly became taught and broke. Luckily, the cleat didn't. Having a quick-thinking crew to cut the line would have been advisable. The boat did have someone capable driving, so they were able to hold the boat in place while the lock attendants dropped another line to them.
Commercial traffic takes priority in the locks, and there is a lot of it. These boats are often built to the size of the locks with little room to spare. The locks can handle a ship with a 740-foot LOA and a 78-foot beam.
We had to wait on the side of one of the areas for ships to pass. Losing more than an hour was painful, but you're at the mercy of the lock masters. For pleasure craft, it takes more effort for the staff as each boat needs a bow and stern line. The commercial traffic doesn't need anyone. There's a system of suction machines that attach to the vessels to hold them for each drop/rise.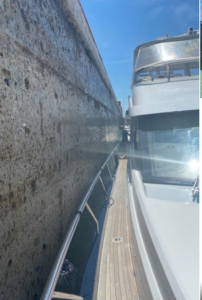 All in all, we were up at 6 a.m. to check fluids. We moved into place by 7 a.m., ready to go as were told, and then had to wait for commercial traffic for three hours so we tied up to the outer lock holding area before we finally headed it.
Due to the need for staff and the nature of the locks, it's limited as to how many boats they will take at a time. In our case, we started with six boats, but they split us up, so our day was a few hours longer than the first set of three that got in the first drop.
You need to make a reservation for the locks at https://greatlakes-seaway.com/en/recreational-boating/lockage-booking/ There you'll see the availability for transit. Warning: It could be a day or two if it's busy.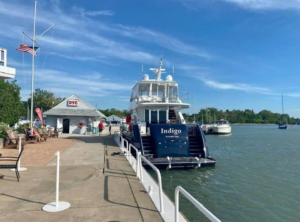 The phone number for the lock attendants is +1 (289) 690-4344. Make sure to call to tell them your situation. We didn't see a reservation for three days but book and paid for a spot just the same. As it turned out, they were able to take us that morning, which was huge. If would have been painful to have to lose three days at the start of the trip.
Once we exited the canal we stayed in Canada and went to the Dalhousie Yacht Club in St. Catharines. They had fuel, but not much else. At least it was convenient. Due to Covid, their bar and restaurant were closed; too bad, as they are a great spot for sunsets.
We sufficed with grilling on the aft deck and cleaning our fresh water strainer. Such is life. Read more:
https://cruisingodyssey.com/2021/06/04/start-of-delivery-from-lake-huron-to-portland-maine/