I remember testing the very first Back Cove, a 29, in Biscayne Bay off Miami, in 2003 with Bentley Collins, the company's vice president of marketing and sales. I was the editorial director of both Yachting and Motorboating then, and I wrote in my notebook, twice, the words "I like this boat."
So did a lot of other people. Indeed, Back Cove, the sister company to Sabre Yachts, just built its 1,000th boat, a 39O, and it was a long way from the original 29 that I liked so much. The 390 is the fastest and quietest Back Cove yet. Instead of the single diesel on the 29, the 39O is powered by three 400-hp Mercury Verado outboards, it tops out at 43 knots, has a range of 300 nm at 30 knots, and a sound level of just 73 dB(a) at the helm.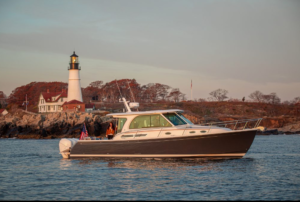 Today, Back Cove makes a 34O (outboard), a 372 (inboard); the 39O (pictured above), and a 41 (inboard; single 725-hp Volvo diesel), all in the Rockland, Maine, factory that used to be North End Composites and that Sabre bought in 1995.
A major success story, Back Cove yachts have become popular for several reasons, and perhaps their looks is at the top of the list. They exemplify the modern Downeast, made-in-Maine looks that have been copied around the world, with classic, clean and eye-pleasing lines.
They also are user-friendly, in every sense, from the original single diesels, which also were fuel efficient, to the modest (almost non-existent) use of exterior teak. You basically could wash them and put them away at the end of a cruising or picnicking day on the water. They were priced right, and Back Cove  (and Sabre) developed a strong dealer network around the world.
Indeed, the 1,000th Back Cove was headed for Boston Yacht Sales, which also bought the first Back Cove, the 29, and the 500th (a 30). In Portland, Maine, and other locations in the Northeast, DiMillo's is both a Sabre and Back Cove powerhouse dealer. Read more: