More than 20 years ago, I often commuted to work in midtown New York from Norwalk Cove Marina in Connecticut on a variety of boats, depending on which one my magazine was testing for the summer. I remember a Sea Ray, a Formula, a Fountain, a Donzi, a Phoenix and a Pursuit at different times. (There was no way I could commute back and forth in the same day on my own Grand Banks with its 8-knot top speed.)
But those commutes, morning and evening, going down Long Island Sound, the East River past the U.N., around the tip of Manhattan, with the Statute of Liberty off on one side and the skyscrapers of Wall Street on the other, provided some of the most memorable times of my life.
Now I've found another commuter, the Nimbus C11, and it makes me sorry I'm not in the commute-by-boat business anymore. I wouldn't have to worry about the weather: the Nimbus C (for Commuter) 11 is an all-weather cruiser, a go-anywhere at any time vessel in the same genre as the increasingly popular Axopar or Sargo boats.
And I wouldn't worry about getting to the office on time. Powered by two 300-hp Mercury Verados, the Nimbus C11 tops out at 40 knots. Even Hell Gate wouldn't be a problem, since the Nimbus has a twin-stepped hull to handle the waters off its native Sweden. The bow is sharp to split the waves, and there's a bit of flare to deflect spray.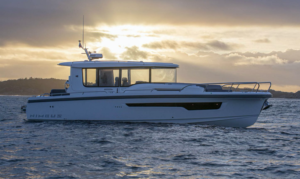 The Nimbus has two cabins below, the master forward and the guest tucked under the helm deck; they both sleep two adults. The head, with shower, and galley, also are below.
Up top, the side decks are wide and safe, and extra-wide doors provide access from the helm deck. Another sliding glass door leads aft to the cockpit. Windows all around and two glass overhead hatches, which you can open by pressing a button, provide excellent visibility.
In the salon, the seating can be adjusted depending on how many people are on board. There are two seats at the helm, while the settees aft can be folded and moved to different positions and the dining table can be raised, lowered, rotated or folded.
And you don't have to use the Nimbus C11 for commuting. An evening cocktail ride around the harbor, a vacation down the ICW, a bucket-list ride around the Great Loop, they all beckon. The boat has an air draft of just 12' 3", very low for a 40-footer, so you won't have to worry about waiting for a lot of bridges to open.
Specs.: LOA: 40'7"; Beam: 11'4"; Draft: 3'; Disp.: NA, Fuel: 225 gals.; Water: 135 gals.; Power 2x300hp Mercury Verado outboards. Read more: