ACR just launched its new Bivy Stick, the world's smallest two-way satellite messenger and app. The Bivy Stick works anywhere with a view of the sky, with 100 percent global satellite coverage, and it measures just 4.5 inches by 1.8 inches. It weighs only 3.5 ounces.
Built to be used whether you're out on a day cruise around a lake or on an ocean voyage, the Bivy Stick lets you send messages, track and share your location, access GPS maps, view live weather forecasts, and place an emergency SOS call.
The Bivy Stick has a high-power antenna for reliable connections and two-way satellite communications. Using the device, you can send text messages to phone numbers and email addresses, as well as share your tracking and location information.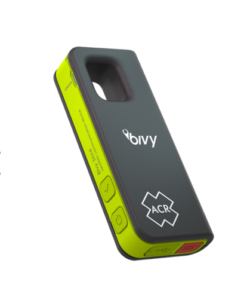 The device has a dedicated check-in button so you can update contacts with a preset message at a specific location. An SOS button will contact rescue services in an emergency. Bivy Stick users also can connect with Global Rescue, providing 24/7/365 medical, security and evacuation services around the world.
A subscription-based device, the Bivy Stick can work with your smartphone and with the ACR  Bivy Stick app to identify and collate crowd-sourced information from other Bivy Stick users.
ACR offers flexible pricing for using the Bivy Stick. There is no annual contract or activation fee; you just pay for the months you use the device. The easiest option is an unlimited fee of $49.999 a month. The retail price for the Bivy Stick is $349.95. Read more: