The new Lamborghini 63 by Tecnomar was launched recently at the Marina di Carrara in Italy. Powered by two 2,000-hp MAN engines, the new Lambo on the water tops out at a sizzling 60 knots.
The new Lamborghini is a collaboration between the luxury Italian sports car builder and the Italian Sea Group, the parent company of Tecnomar. It's named the Lamborghini 63 to recognize both its length and the year that Lamborghini was founded.
Giovanni Costantino, the CEO of the Italian Sea Group, said it's the fastest boat in the Technomar fleet and it "links technology, supreme design, quality and performance."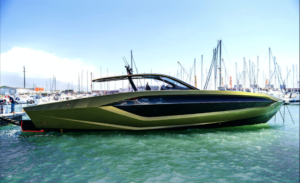 For his part, Stefano Demenicalo, the CEO of Automobili Lamborghini, said, "If I had to imagine a Lamborghini on the water, this would be my vision."
The boat borrows many design elements from Lambo sports cars. The helm is a nautical version of a car cockpit. The steering wheel is the same; the two start-stop buttons for the engines are the same. The details in Lambo's Carbon Skin in the seats are the same.
The boat's hardtop contributes to its aerodynamic look, while the trademark hexagonal shape of the cars is repeated in the angled hull windows and the open transom of the boat.
Below, the Lamborghini 63 has a master suite forward plus a guest cabin with twin beds. Despite the boat's low profile, there is lots of room – and light – in the cabin. Up top, there's a dinette and galley aft of the helm, and a large sun pad on the aft deck.
Each MAN diesel weighs 5,247 pounds, making it heavier than a Lamborghini Urus SUV. But the new boat uses lots of carbon fiber to keep its weight down, and performance up. The Lamborghini 63 weighs 48,000 pounds. It also has a range of 360 nm at a cruising speed of 40 to 45 knots.
Base price is $3.5 million. Read more:
https://www.boatinternational.com/yachts/news/first-tecnomar-lamborghini-63-launched