For the past two years, Salter Watson, 14, has lived on Spirited Away, a Nordhavn 47, with his father, Alex. Salter has been "boat-schooling," while he and his father are on a three-year plan to cruise the Great Lakes, the East Coast, and even the Bahamas. When he has time, Salter writes a blog. Here's his latest, a knowledgeable discussion of the merits of anchoring out or staying at marinas while cruising, an issue that we've all faced over the years:
Having just completed our second year as live-aboards and looking back at thousands of photos we've taken so far, I wondered why we had sometimes stayed at marinas and sometimes at anchor.  I decided to write about it.
We've stayed at around 40 marinas I guess — as far north as Hessel, Michigan, and as far south as Palm Beach, Florida, returning to some of those twice or more.  And I would say we've anchored maybe 25 times or so, which is not nearly enough I think.  I'll explain why below.
Every time we move the boat, we have a planned destination — an anchorage or a marina.  Sometimes we have a back-up in mind, just in case weather gets bad or something important goes wrong with the boat.  In over 8,500 miles travelled so far, we've only had to choose that back-up once.  Not bad.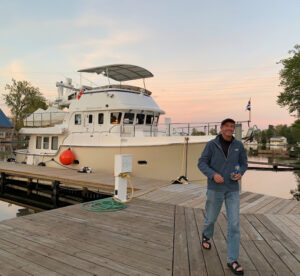 Not all marinas will work for our boat.  Some do not have enough water at their approach or at their dock for our nearly 6' draft, especially when tides are significant. Some don't offer the 50 Amp power we need.  Some are too expensive.  Some are not protected from wind and waves, or have docks too old or spindly to safely hold us if weather picks up.  And some are just plain "sketchy."  (More about that below, and it's really funny!)
Not all anchorages will work for our boat either.  Like marinas, our main concern is having enough depth.  Other worries are protection from winds if they are happening or are forecast to happen, protection from wakes, protection from traffic (we don't want any night barges running into us), and enough room for our boat to swing if current and/or wind is strong.  As I wrote in my earlier post about anchoring, we always put down a 7:1 chain ratio for peace of mind, even in calm conditions, so our concern about current at an anchorage is mostly about swinging into another boat (or them into us), if the anchorage is small or crowded.  A couple times, we've come closer to that than we'd like.It's no fun watching a boat anchored nearby getting closer and closer, or waking up to the sight of one too close. Read more:
https://spiritedaway47.blogspot.com/2021/07/marina-or-anchorage-how-when-and-why-do.html#more