April and Larry Smith, and their one-eyed dog Abby, don't know how to quit. They completed the Great Loop in 2017 on a 52-foot Hatteras motoryacht; they completed it again in 2019 on their then-new 44-foot Aquila power cat. And they're still going strong; in fact, earlier this week they were working their way up the East Coast, stopping in Ocracoke to explore the Outer Banks.
Along the way, the Smiths have become well-known for their travels, as well as for Abby. They named their boat One Eye Dog, which helps make friends. They have electric bikes for exploring towns along their way, and one has a basket to hold Abby, a Maltese.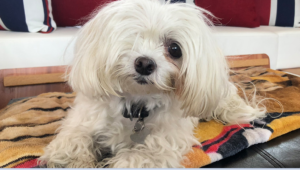 The Smiths first saw the Aquila at a boat show in Charleston, and April wrote that they fell in love at first sight. They flew to Hangzhou City in China, where Aquilas are made by the Sino Eagle Group, to inspect the boat. Larry even took a 44 on a test ride there.
Then they returned to California and sold their house, their cars, and 90 percent of their possessions. They were going to live aboard full-time. They customized the Aquila to make it more like home, turning the third cabin into an extra storage space, and they added a washer and dryer, a freezer and an extra fridge. In the salon, they opted out of the standard six-person table to make room for an ottoman, creating an open living room.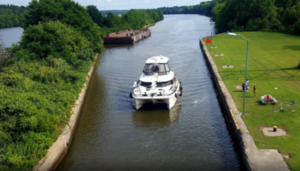 After commissioning the boat in June, 2018, the Smiths cruised 9,000 miles in the next year. They say handling the boat is easy; Larry often maneuvers around docks while sitting on an Adirondack chair on the bow, using a remote. Power comes from twin Volvos with V-drives.
The boat has underwater exhaust, which reduces noise, and they can go for up a month without plugging into shore power because of a combination of six house batteries, two solar panels, an inverter, and a Fischer Panda 12kW genset.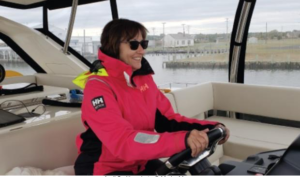 Since they bought the Aquila, the Smiths have cruised more than 15,000 miles. "We are always asked if we can do the Loop in a catamaran," April writes. "The answer, of course, is yes." You can follow the Smiths on their Facebook page, TheOneEyeDog. Read more: