A four-acre island at the top of Lake Huron, just around the corner from the top of Lake Michigan, Mackinac has been a major tourist – and boating – destination for more than a century.
To visit Mackinac (pronounced "Mackinaw") is to step back in time. Motor vehicles have been  prohibited since 1898, ten years before Henry Ford rolled out his first Model T. Since then, you get around on the island by horse, bike, or foot.
Mackinac is known for its fudge. The first fudge shop was opened in 1887, the same year that the iconic Grand Hotel was finished with its 660-foot-long front porch; the hotel claims it's the longest in the world. Now listed as a National Historic Landmark, the Grand Hotel has welcomed famous guests from Mark Twain to John F. Kennedy.
During the summer, Mackinaw draws a boating crowd. There are three marinas on the island, and one on St. Ignace, on Michigan's Upper Peninsula, just a short ferry ride away (I've stayed there and it's a wonderful spot).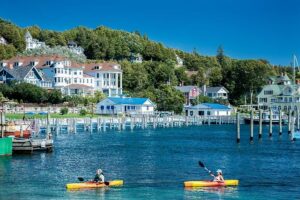 But Mackinaw also is the finish line for the historic Mac race from Chicago, sponsored by the Chicago Yacht Club. The 112th race just ended, with 240 boats competing.
Tourists today can hear the cannon fire from Fort Mackinaw, built to protect the Straits of Mackinac in 1780. Soldiers now dress in period costumes to relive times when the area was fought over by the Americans, French and British because of its strategic location on the Great Lakes.
Today, things are much more peaceful. If you tire of visiting one of the seven fudge shops in the island, you can stake out a position on a rocking chair on the Grand Hotel's porch, and gaze out at the Straits of Mackinac and the Mackinac Bridge. If you're staying at the hotel, you can enjoy the renovated outdoor pool complex, made famous by movie star/swimmer Esther Williams.
For relaxation, you can head to the outdoor patio at the Hotel Iroquois and sip a blueberry daiquiri, or join a lot of sailors at the Pink Pony bar in the waterfront Chippewa Hotel. Read more: