Here's a fresh idea for a dink or tender or just a fun boat to have around, particularly when space is tight: The New Zealand-made Takacat, a catamaran-style inflatable with an open bow and transom that's lightweight, compact, versatile and cost effective.
The open bow is made for easy boarding from a mothership, or from the water if you've been swimming. And the fully removable transom keeps the boat dry, since water can flow out the back, while making it easy to pack the Takacat in two storage bags.
Takacats come in six sizes from 8' 6" to 15 feet long. They can be assembled in 15 minutes without any tools. The hulls are inflated through a valve with an electric air pump or the included hand pump. When it's time to put the Takacat away, you simply unplug it and push the air out so it fits in to the bags.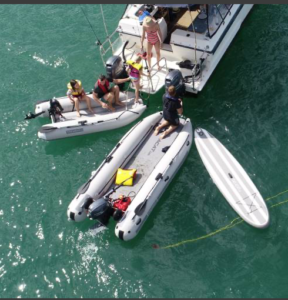 The hull tubes are made from three-ply PVC reinforced fabric material or UV-stabilized Hypalon. The boats have a rigid air-deck floor with anti-skid, and they have low draft for maneuvering around beaches or flats.
The boats can be towed via a three-point harness using two D-rings on the underside of the floor. Rub rails on the sides provide extra protection for both the Takacat and the mothership .
Takacats are sold around the U.S. The Takacat 260LX is 8' 6" long, weighs 55 pounds and can hold a 6-hp outboard. The bags for the hull and transom each are about three feet long and 14 inches wide. The boat costs $1,790. Read more at  http://takacatamericas.com and see the video of the Takacat in action here: