Autopilots are becoming almost essential equipment on new cruising boats, but how to choose the right one? To help you out, the Marine Electronics Journal asked manufacturers to single out their Best & Brightest autopilots for review. These are not necessarily the latest models, or those with the most features, but ones that are the most popular or technologically advanced. Here are the replies from Garmin, Simrad, Raymarine, ComNav, Furuno, Octopus, SI-TEX, and B&G:
Garmin's Reactor 40 hydraulic autopilot (pictured at top) keeps you on course at cruising speeds, minimizes heading error, reduces power consumption and more, so you can be more comfortable while cruising. Solid-state nine-axis Attitude Heading Reference System (AHRS) sensors provide reliable vessel control in all sea and weather conditions and consistent heading accuracy within 2°. With a complete package designed for powerboats and sailboats, Garmin brings an advanced marine technology to the boating public that was once only available for commercial boats. Experience the ultimate hydraulic autopilot performance when paired with the one-size-fits-most, high-reliability, brushless SmartPump v2 that eliminates the risk of rudder "hard over." Its patented Shadow Drive technology automatically disengages the autopilot if you take the helm and re-engages when you hold a steady course.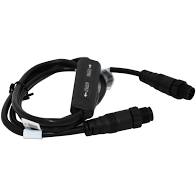 Simrad's NAC-D is a steer-by-wire autopilot solution for electronic vessel control systems. With NAC-D, boaters with SeaStar Optimus, Yanmar VC10/JC10, Volvo IPS/EVC or Yamaha helm master/single engine control systems can benefit from all the full features and performance of Simrad autopilots. Easy to install, NAC-D requires only the connection of two Micro-C connectors. There is no requirement for an additional hydraulic pump, rudder sensor installation or dockside rudder calibration. This saves boaters time and money. Featuring Continuum steering and support for SteadySteer, the NAC-D allows automatic switching between two speed profiles, delivering optimal steering performance at both low and high speeds. Users can choose the controller to suit their preference from dedicated controllers like the AP 44 or AP 48.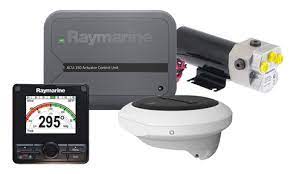 As the newest member of the award-winning Evolution autopilot line, the Raymarine EV150 Hydraulic Autopilot System is engineered specifically to meet the needs of small- to medium-sized hydraulically steered vessels with a steering ram capacity between 4.9 cu. in. (80 cc) and 14 cu in. (230 cc).  The system is for 12-volt DC electrical systems only. The EV150 system features all the same Evolution series features that demanding boaters have come to know and appreciate including simple setup and fully automatic calibration. Like its siblings, the EV150 features Evolution TrackIQ algorithms for tighter track-keeping and faster track acquisition. Raymarine's patented Hydro-Balance technology automatically compensates for deficiencies in the boat's hydraulics and adjusts automatically for asymmetrical loads caused by propeller walk and unbalanced steering rams. Read more:
https://nmeaboater.com/content/newsm/news.asp?show=VIEW&readMore=True&a=420#rm